Non Evans: Wales Women face tough Twickenham test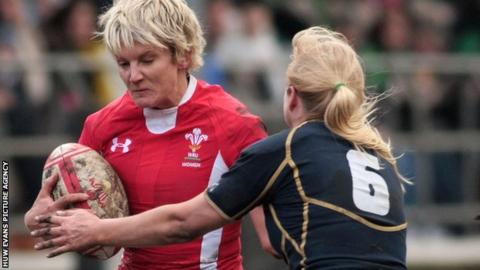 I had a few comments after I said Wales would easily beat Scotland in my last column. A few people said I'd stuck my neck out but I was pretty confident after seeing previous performances against Scotland.
To be honest they should have beaten them even more comfortably. I think they squandered three or four chances when they had clear line breaks but couldn't finish off with a try. They could have scored seven tries not four.
Amy Day scored two of Wales' tries. She didn't start the abandoned game against Ireland. Laura Prosser and Amy always compete for the position of scrum-half. She was really keen to cement that starting number nine shirt and scored two lovely tries.
Wales showed against Scotland they can play outstanding rugby and can make some good line breaks. But that was against quite poor opposition.
It was the confidence they needed after the Ireland game was postponed at half-time, but they've got a really tough trip to Twickenham to face England.
England beat Italy convincingly by seven tries to nil but only scored a couple of tries in the second half. Italy certainly did well in the second half. England are definitely the favourites but I'm hoping Wales can keep it close.
They've got such strength in depth and blooded quite a few youngsters in their opening two fixtures. The likes of Margaret Alphonsi, who made a real name for herself in the World Cup two years ago, are probably going to be back this weekend.
Twickenham is a very wide pitch with a really good surface and it's going to suit England's backs and powerful pack. They beat New Zealand, the current world champions, at Twickenham before Christmas.
England love playing at Twickenham. There will be a huge home crowd there, it's live on the BBC Red Button and England will raise their game.
Quite a few of the Welsh girls have played at Twickenham in the past for UWIC in the BUSA final and a few of the other girls have played on the bigger stages in other countries all over the world.
I don't think they will be overawed by the occasion. I just hope they can play to their potential and finish off chances they didn't finish off against Scotland and really make a game of it.
Depending on the England game, Wales will be aiming for a top three finish. This year's and next year's Six Nations are going to be important for qualification for the next Women's World Cup. They need to try and finish in the top four at least.
It's going to be tough against England but it all bodes well for the last three games.
* Non Evans was talking to BBC Wales Sport's Aled Williams