Tim Visser extends Edinburgh contract until 2015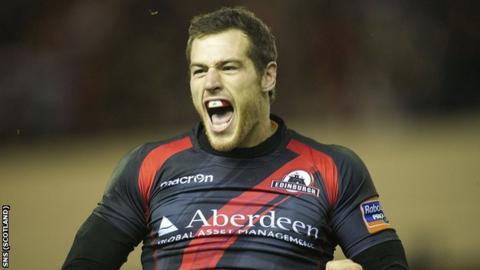 Edinburgh wing Tim Visser has extended his contract with the Scottish capital side until the summer of 2015.
Dutchman Visser, 24, was a regular try scorer as Edinburgh qualified for the quarter-finals of the Heineken Cup.
Head coach Michael Bradley said that the announcement made his side "the envy of many clubs in Europe".
"I feel at home in the city. I've had three great years of playing the rugby of my life," said Visser, who joined Edinburgh from Newcastle in 2009.
Visser, who has registered 40 tries in 66 appearances, will complete three years of residency in the country this summer, making him eligible for Scotland selection.
"There's been a lot of talk, particularly among Edinburgh fans, about my qualification for Scotland," he said.
"It would be an absolute honour to represent Scotland, a country whose fans have adopted me into their rugby family and made me the player I am today.
"However, like all players, my focus is on performing for my club. If my performances merit selection for the national team then it would be a very proud moment indeed and I would do everything in my power to repay the support shown to me in these past three years.
"I'm delighted to have secured this extension which will now allow me to focus on improving my game for another three years at a club on the up."
Bradley last week secured South African prop WP Nel from Super 15 side Free State Cheetahs and is pleased to have prolonged Visser's stay.
"His consistency is what sets him apart," said Bradley.
"Year after year he has surpassed his own remarkable achievements and that desire, passion and ability is exactly what we look for in all of our players.
"We are working exceptionally hard behind the scenes to ensure we have the right players in place so we can continue to break new ground and celebrate even greater successes in the years ahead."