Six Nations: Leigh Halfpenny hails Wales' giant backline
Last updated on .From the section Rugby Union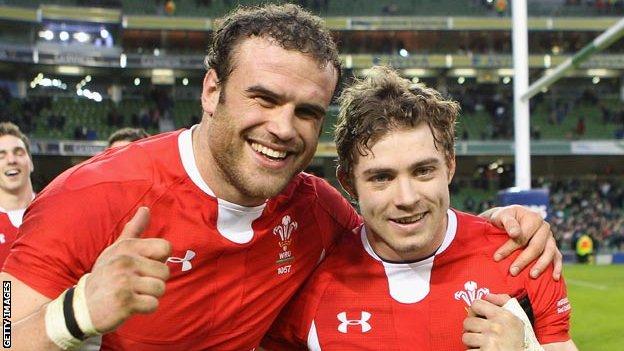 Full-back Leigh Halfpenny admits he feels more than comfortable being the small man in Wales' giant backline.
Unbeaten in their two opening Six Nations matches, Wales' unchanged backline has been responsible for all their side's six tries.
Halfpenny has scored two of those tries in a 30-point haul, including the winning penalty against Ireland.
"It's comforting to be around such a big backline. They can protect me," said Halfpenny before facing England.
"I'm a bit smaller [than the rest]. It's been great to be part of such a special backline. We have got some awesome ball-carriers and they have got plenty of skills as well.
"We have been together for a while and are really gelling. We are comfortable around each other and we are working well as a unit not just on the pitch, but off the field we are close and have got a good relationship with each other."
Halfpenny, 23, has been one of Wales' many stand-out performers so far in the Six Nations wins over Ireland and Scotland, and has now topped 100 points in international rugby.
They have been impressive victories that have made Wales favourites to beat England - also unbeaten - at Twickenham on Saturday to seal their 20th Triple Crown.
And despite the usual intense build-up that comes with Wales-England clashes, Halfpenny says the anticipation has been given extra spice given that Warren Gatland's men are going for that Triple Crown.
"The stakes are high in terms of a Triple Crown, which will be fantastic," added Halfpenny, who will reach 30 Wales caps at Twickenham.
On Wales' try-scoring clout - three each against Scotland and Ireland - Halfpenny credits the Wales pack for releasing the potent backline.
"They work very hard for us and do tremendous work up front and we reap the rewards then," he said.
"We work very hard on our skills and finishing and that seems to be paying off."
Halfpenny has been unchallenged in the full-back berth since Wales beat Ireland in the 2011 Rugby World Cup quarter-final and has become Wales' designated goal-kicker since the Scotland game - fulfilling a boyhood ambition.
"I enjoy playing full-back and every time I put the Wales jersey on it's a very proud moment," added Halfpenny, who came within a whisker of landing a long-range penalty to take Wales to the World Cup final.
"It's something I have always dreamed of: kicking for Wales. To be doing it now is a dream come true now.
"I just really enjoy doing it. I put in a lot of hard work growing up. To begin with kicking for the Blues was really nice, but kicking for Wales was unbelievable. I just really enjoy it."
Though Wales are strong favourites to win at Twickenham, Halfpenny has sounded a warning about England's own talent in the backline.
He is wary of the likes of Ben Foden and Chris Ashton who have yet to shine in the Championship despite England winning both their opening games against Scotland and Italy.
"They have good footwork, great speed and are very dangerous with ball in hand," he said.
"We know they pose a great threat to us and we know we have to be squeaky clean in defence."