Exeter's Tom Hayes and Simon Alcott sign new deals
By Brent Pilnick
BBC Sport
Last updated on .From the section Rugby Union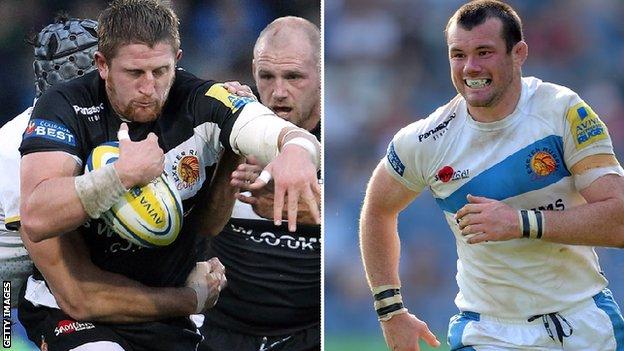 Exeter Chiefs captain Tom Hayes and hooker Simon Alcott have signed new two-year deals with the club.
"They're both key signings, almost more important than anybody else we bring in, because they show where we're heading," said head coach Rob Baxter.
They join Jason Shoemark and Hoani Tui, who signed new deals last week.
Baxter has outlined the faith he has in his current squad of players and his desire to keep as many of them as he can.
And he says the signings of Alcott and Hayes, who both helped the club to promotion from the Championship to the Premiership in 2010, shows the improvement Exeter have made as a whole.
"We've shown a desire to keep them here and keep a stable foundation, it's another couple of signings to show that's very much the process that we're going to keep going for a couple of years.
"Building squads takes time and I'm much more comfortable working with players who are in this environment already than I am in bringing in a lot of new players," he told BBC Sport.
"Tom has been key," Baxter said of his skipper. "He's calm and collected, he's there every week, he's durable and he's been a very good part of what we're achieving.
"Simon's maybe not played as many games, he's had a few injury issues, but he's a fantastic athlete, probably one of the quickest and strongest hookers running around in the Premiership at the moment and someone who's going to keep developing for a couple of seasons yet."
Irish back-row forward Hayes was made skipper a year after joining the Chiefs and says the thought of leaving Exeter had never entered his mind.
"I never really wanted to leave. The club has moved forward a lot in the last few years and it's been really exciting just being part of that," he commented.
"I just want to stay here and continue to be part of it moving forward and hopefully the club can keep moving forward."
But Hayes' personal career highlight so far is not what he thinks most people would expect.
"Most people would probably look at the promotion final and getting into the Premiership.
"But actually it's staying in the Premiership, and developing as we have in the Premiership," he said.
"Just because there wasn't a trophy at the end of any particular match perhaps takes the gloss off it for some people, but i think it's been a massive achievement for us the way we've progressed as a Premiership team."