Six Nations: England v Wales analysis
Last updated on .From the section Rugby Union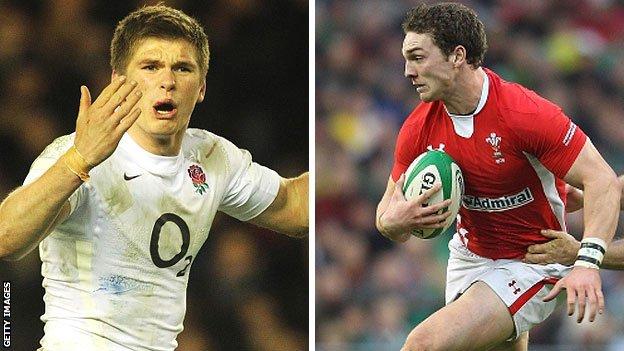 Former England centre Jeremy Guscott and ex-Wales fly-half Jonathan Davies on what to expect when England host Wales on Saturday.
England's new half-back partnership
JD: England scrum-half Lee Dickson is quick, he gets the ball away and helps create quick ball. When he came on against Scotland he upped the tempo and that benefited England. I don't think he's a better player than Ben Youngs but Youngs is struggling to find top form and he's taken his opportunity. It will be a big test for him and maybe we'll find out whether he's international class.
JG: Owen Farrell has pretty good hands and, in his first two games with England, he's knocked over crucial penalties. He doesn't set the world alight with his running ability, he's not overly quick but he'll develop into a more all-round player with time. All he needs to do is be that link person who gets the ball and brings his three-quarters into the game.
My only concern is, is it a bit too early? On the plus side, we're going to find out. But if [England head coach] Stuart Lancaster is honest, Toby Flood is probably the best fly-half in England, and if the best players are fit, they should play. But these are the sort of selections Lancaster will be judged on.
The midfield battleground
JD: England haven't been that creative in their first two games, so Charlie Hodgson is no real loss. Manu Tuilagi brings more physicality to the English backline, which makes it a different tactical game, although Wales will still attack down the number 10 channel, even with Hodgson out and Farrell in.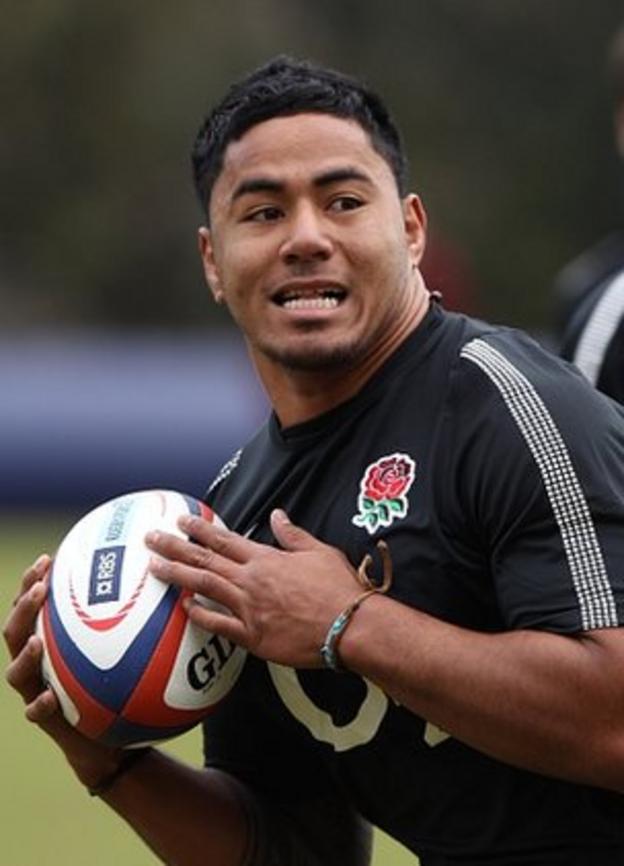 Wales will use their power to get over the gain line and then use their skills to get on the outside of people, particularly because England will be worried about them using their physicality to come down the middle and condense the defence.
England have got a good back three but has the midfield got good enough distribution skills? I'm not sure. And they've got a new fly-half, a new inside-centre, so they're kind of starting all over again.
JG: It's probably better for the make-up of the team that Tuilagi starts with Brad Barritt in the middle for England. As good as that Welsh back-line is, with those two in the centres, they know they're going to get crunched.
But the Welsh back-line has the crash, bang, wallop and the touch and feel of a pick-pocket. Jonathan Davies' try against Ireland illustrated that perfectly: George North was the crash, bang, wallop and Davies came in like a pick-pocket, took the little offload and skipped over the line.
Welsh superiority at the breakdown?
JD: Speed of ball from the breakdown is crucial. Wales create quick ball, whereas England don't, maybe because of their lack of big ball-carriers.
Wales have got a better balance in the back-row than England, although England number eight Ben Morgan has changed the balance. Maybe if he carries and makes inroads, that can create quicker ball.
JG: Although Adam Jones and Gethin Jenkins are arguably the best tight and loose-head in world rugby, the English pack is unlikely to get outplayed at the set-piece. So the breakdown will be crucial and Wales definitely have an advantage with Sam Warburton being an out-and-out open-side.
If Morgan gets the ball on the front foot it's going to take two of them to stop him. Tom Croft is quick, Chris Robshaw has got a battery on him that goes forever, but Warburton is likely to be at the breakdown at crucial times.
Will Wales cope with favourites tag?
JD: Welsh fans always think they're very good but always think they're going to lose. That's a mental psyche, and not only do the supporters think like that but previous teams have thought that, too.
But I think this side is more composed and more mature. They did very well at the World Cup but were sorely disappointed they didn't go further.
JG: I'm not too interested in the fact Wales have only won twice at Twickenham in 24 years. This is a young Welsh team who haven't been through any of that. They're interested only in England for 80 minutes.
They're not in a dissimilar position to England a few years before the 2003 World Cup. So many of this Welsh side are 20-25 and it's phenomenal to have so many good players so young. I think they'll be competing at the World Cup in 2015 and may, some day, become top dogs.
Who has the edge?
JD: Wales played well in beating Ireland and, against Scotland, they made the most of two yellow cards. And that is the difference at international level, the mental side: when you've got your foot on an opponent's throat, you've got to finish a side off.
Wales have played two tough games and come away with results. They're playing a nice brand of rugby and their defence is very good. I'm confident if this side plays well they will win, and I haven't said that very often about a Welsh side playing at Twickenham. If Wales get the set-piece right they could win more comfortably than people think.
JG: The major difference between Wales and England is how they run with the ball: the Welsh run as if they are trying to smash through a concrete wall whereas England have not been able to generate that momentum and ferocity in attack.
This Wales side has been together for some time now and the players feel comfortable in each other's company on the field. And if you look at sides that have won Grand Slams in the past, they've always had players in top form.
North is in the form of his life, as are a few of their backs, and I can't see that diminishing. The mood they're in they'll think they're just about unstoppable. Of the two, Wales are simply the form side.