Dave Ward prepares for 100th Cornish Pirates appearance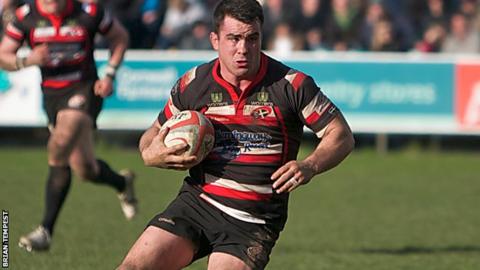 Cornish Pirates hooker Dave Ward will make his 100th appearance for the Championship club against Moseley.
The 26-year-old, who joined in 2008, plays his 20th league game this season.
Injuries mean winger David Doherty moves to centre while Darren Daniel and Matt Evans start on the wings.
Flanker Chris Morgan, lock Ian Nimmo and Ward are the only forwards to keep their places as Carl Rimmer, Lloyd Fairweather, Mike Myerscough and Ben Maidment all come in.
"It's been enjoyable, I think I've missed four games in three seasons," Ward told BBC Radio Cornwall.
"It's been a really good squad to be a part of and a pretty successful squad as well.
"Three years on we're starting to reap the rewards of all the hard work we've put in, and hopefully this will be the strongest we've been going into the play-offs."
Ward says the camaraderie around the Mennaye is one of the best parts of playing for the Pirates.
"There's a family atmosphere about this club that I love and it makes it what it is. "I'm going out there doing what I love with 30 of my best mates and three guys that I really respect on the coaching staff."
And Ward is hopeful that the Pirates will be successful in the play-offs.
"I'm quietly confident. I think we're going to go from strength to strength. There are some strong teams there, the only team we haven't beaten this season is Bedford and I think, we can beat them.
"We've had six wins on the bounce, seven if we beat Moseley. It's winning rugby at the moment," Ward said.