Geordan Murphy keen to extend Leicester Tigers deal
Last updated on .From the section Rugby Union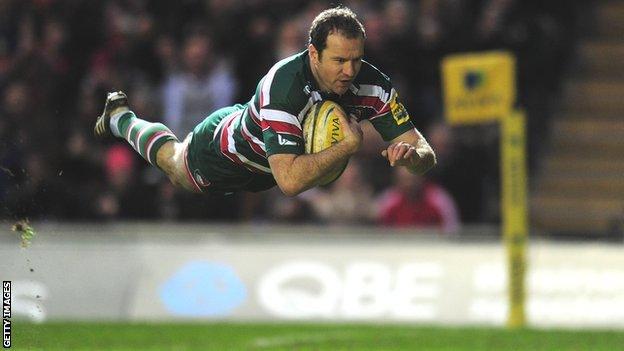 Leicester captain Geordan Murphy says he would love to extend his near 15-year Welford Road stay when his current deal expires in 2013.
The 33-year-old joined Tigers in 1997 and will play the 300th game of his trophy-laden club career on Saturday.
Murphy has played in seven Premiership-winning teams, four Heineken Cup finals and has also won 72 caps for Ireland.
"I feel good and if I feel like this next year I will look to extend [the deal]," he told BBC Radio Leicester.
"I absolutely love it. This time last season I dislocated a bone in my foot and was in a bad shape and I thought 'we'll see how I get on this season'. But I feel really fresh.
"It's an amazing place, Leicester. You get sucked into it and the fans support the team brilliantly and the guys work really hard for each other. It's an easy team to be passionate about and I haven't lost any of that passion."
Murphy, who made his debut as a teenager in November 1997, said his introduction to the club was a big shock.
"It was as huge eye-opener and even in the first three weeks here I felt my game advanced tremendously," Murphy said.
"We came straight from the airport and into a training session and it was a full international side with international players running around everywhere so I was a little bit shell-shocked I suppose.
"Rugby went professional in 1996 and it was the very early days of professionalism. The advances have been very noticeable, in nutrition, health, the way we are looked after right across the board.
"But there are still a lot of family-orientated things that have been consistent throughout the time."
Much has changed during Murphy's time at Welford Road but one constant has been Richard Cockerill.
A player when Murphy first joined, Cockerill doubled up as the teenage back's landlord and is now his director of rugby.
Murphy said he has made a better fist of his coaching and player career than he did as landlord.
"I actually rented my first house from Richard Cockerill in early 1998," Murphy recalls. "He rented a little student place to me and a couple of the other guys.
"I told him recently that he didn't pay me back my deposit. I've been chasing that but he says there was a lot of damage to that place!
"Cockers has done a tremendous job and been a real servant to the club. He gave everything as a player and moved quickly up the coaching ranks."
And his highlights of his time as a Tiger?
"The two European cup wins," Murphy said.
"The first in Stade Francais was probably one of the best days I have been involved with in a rugby team. The second, against Munster in Cardiff was tremendous, and I managed to get a try there.
"But every season there are big, memorable games but I am always trying to make new memories."