Six Nations: Wales to target England's inexperienced trio
Last updated on .From the section Rugby Union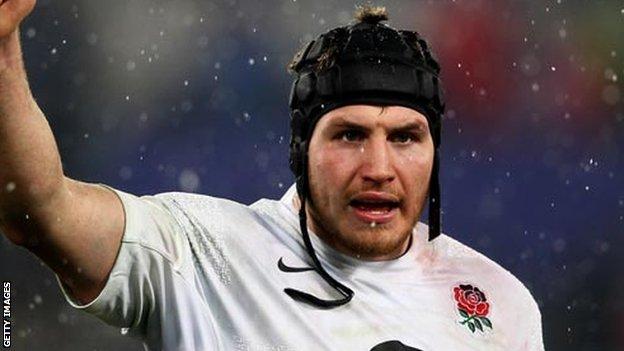 Defence coach Shaun Edwards says Wales will be targeting England's inexperience in Saturday's Six Nations clash at Twickenham.
"It's the first time England's axis of eight, nine, 10 [Ben Morgan, Lee Dickson and Owen Farrell] have played together," said Edwards.
"And like any axis you're going to try to put pressure on it."
Added Englishman Edwards: "Let's hope we can upset them. That's our job as a defensive unit, to make life as difficult as possible for our opponents."
Morgan, the Scarlets in-form number eight, and Dickson are making their first starts for England, while Farrell moves from centre to make his debut at outside-half.
But Edwards believes the presence at fly-half of 20-year-old Farrell, who moves to the centre to replace the injured Charlie Hodgson, does not weaken England, even though it was Hodgson's charge-down tries that led to wins over Scotland and Italy.
"You've got a guy playing at fly-half who recently won the Grand Final in the English championship in that position," said Edwards.
"I'm sure he will look back at that game and it will give him confidence.
"Every time Owen seems to get into a team people ask if he will be able to take it in his stride and he does. Everything that seems to be thrown at him he just responds to it with great maturity.
"He reminds me very much of his dad - he was like that."
Edwards and Andy Farrell - now part of Stuart Lancaster's coaching set-up - were rugby league team-mates with Great Britain and Wigan.
And Edwards recalled: "He came into the Wigan team when he was 17 and they put him in a room with Dean Bell, who was our captain, to ease his nerves.
"The morning of the match Dean Bell was being sick in the toilet and Andy was saying to him 'don't worry - we'll win this game no problem'."
With Farrell moving to fly-half, England have brought Manu Tuilagi back to fill the vacant centre spot.
Edwards added: "It [Tuilagi's recall] certainly makes the [England] backline bigger and I'm sure whoever's doing the defence for them will be pleased about that.
"He's probably the best ball-carrying centre in England and he adds a lot of size and power to the back line, which is going to counteract something we have a lot of."
The presence of Tuilagi makes it an interesting match-up against Wales' giant backline that includes George North, Jamie Roberts and Alex Cuthbert.
Edwards describes this as Wales' biggest game since the World Cup and is hoping his side deliver a notable victory.
"There's no doubt rugby plays a big part in the Welsh psyche and people go to work with a smile on their face when their team's done well," he said.
"To win would be very rewarding for the team and for the whole of Wales.
"We're just excited to play rugby on such a big stage and in such a big game. It's probably the biggest game I've been involved in for a few years outside the Rugby World Cup.
"You know how big it is when people keep texting you asking for tickets!"
Wales start favourites following their victories over Ireland and Scotland, but Edwards is not taking anything for granted before visiting a ground that has surrendered just one Welsh win in 23 years.
"I've played Test rugby and when you are carrying that ball into the first collision or making the first tackle you're not thinking about who's favourites," he said. "It's of no consequence."