Six Nations: try-shy Scotland not far off clicking

By Andy Nicol
BBC Sport rugby union expert
Last updated on .From the section Rugby Union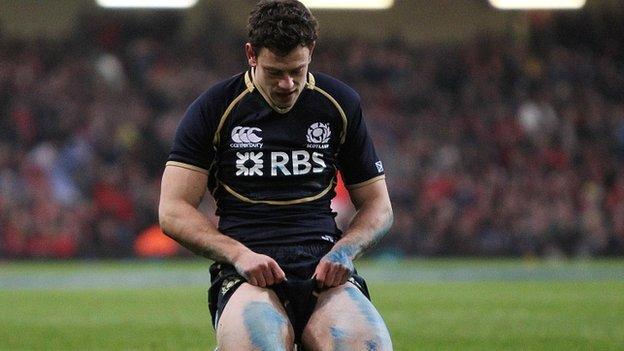 It's difficult to pinpoint why Scotland are having trouble scoring tries. There are so many aspects to can take into account: lack of composure, lack of patience, lack of support lines when clean breaks are made, basic skills letting players down at certain times. It's not one thing.
Edinburgh have been scoring tries for fun this season and, with a lot of the Edinburgh players in the national squad, my hope was that Scotland could translate that try-scoring form and understanding into the international game. But it's not happened.
In truth, Heineken Cup rugby is not on a par with international rugby - it's still a big step up. The pressure, the expectations, the crowd and the media exposure all mean that international games are the biggest you'll be involved in, and maybe that's been why Scotland haven't been able to score tries when Edinburgh have.
They've got the talent and I don't think it's a coaching issue because Scotland are creating chances. It's just having that bit of composure, making that killer pass or support run or angle. Little things like that that can be the difference that sees you converting possession into tries.
There has to be a collective understanding, because unless you are lucky enough to have a Jonah Lomu or a Brian O'Driscoll in your side, who can create a try out of nothing, most tries are team tries.
So when Richie Gray makes a break, the support runners need already to be in place, because people have anticipated what might happen. At the moment they're reacting, not getting on the shoulder for the simple pass.
Scotland hadn't been making breaks over the previous few years, so players aren't used to running those support lines. Watch some of New Zealand's players - they will run in front of the ball, waiting for a break to happen. Scotland's players need to gamble a bit with their support runs and be there in case somebody does make a break.
In the first couple of Six Nations games, the default play in the backs seemed to be to have a decoy runner and put the ball behind. Against Wales, Jonathan Davies read the decoy move, David Denton went up on a flat ball, the ball went behind him to Lee Jones, and Jones was nailed behind the gain line.
Scotland need to vary their attack and have better distribution of the ball. That doesn't just mean passing, it's how you hold a defence to get the ball wide. We're not freeing up our wingers and getting enough ball in enough free space.
You need the variety so the defence doesn't know what's going to happen. You've got to create uncertainty in the defence and that comes from decoy runners, outside lines, good, crisp passing, the right depth. Scotland are doing all these things but they're not doing them effectively enough. Against Wales, they just seemed a wee bit predictable.
Probably Scotland's most effective back-line period of recent times was in 1999, when Gregor Townsend was at stand-off, John Leslie at 12 and Alan Tait at 13. That was the perfect combination. Townsend and Leslie were outstanding distributors of the ball and great decision-makers, while Tait read what was happening and could offer the line that was required, either inside or outside.
But there you're talking about three outstanding individual talents, who complemented each other, and we haven't got that quality of player at the moment. And that means you've got to find other ways to achieve the same outcome.
The pack has been outstanding, with Gray, Denton and Ross Rennie giving real standout performances in the two games so far. Jim Hamilton and the front row have put in some shifts, the set-piece is functioning well, we've got a line-out that can put pressure on France and the only thing missing is that ability to score tries and convert pressure into points.
If I was coaching a side to play against Scotland I would just say "let them have the ball, don't give away any stupid penalties, don't be off-side, don't overly compete at the breakdown", because at the moment scoring penalties is Scotland's most likely way of scoring points. We're now making it even harder for ourselves because teams will just not compete for the ball, their defences are set up and that makes it even harder to break them down.
Maybe the person to step up will be Stuart Hogg, or maybe it will be Greig Laidlaw, who will be a bit more comfortable at stand-off in his second game. But this side is not far off being a good side.
If they can just find that little extra ingredient they could cause an upset on Sunday.