Ireland captain Paul O'Connell heartened by win over Italy
Last updated on .From the section Rugby Union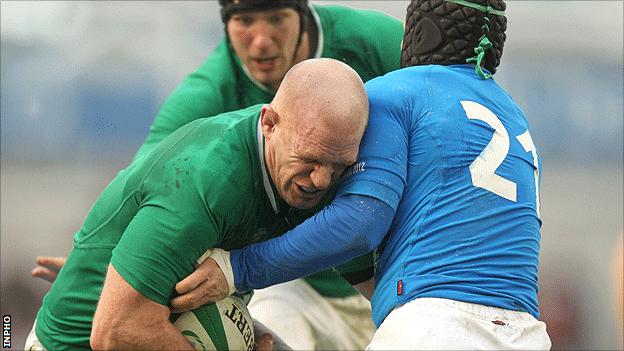 Ireland skipper Paul O'Connell believes the convincing 42-10 win over Italy sets them up nicely for their next Six Nations match away to France.
"It was good to get a tough 80 minutes under our belts," said O'Connell after the five-try success in Dublin.
"Paris is always tough and we will not be able to get away with some of the mistakes we made today. We will have to eradicate them.
"We stuck at the task and to score five tries is satisfying for us."
Tommy Bowe crossed twice while Keith Earls, Tom Court and Andrew Trimble also touched down in perfect conditions as Ireland avoided a fourth successive defeat at Aviva Stadium.
But while the final scoreline was emphatic, the performance against a disappointing Italy side was far from perfect.
"There's feeling of frustration over the first-half performance and a few of the things we didn't execute," said O'Connell.
"But when we did get out of our half we were good and confident.
"We took our chances well and kept going at them for 80 minutes, which we haven't always done.
"We have a lot of excellent and classy players and we took our tries well, which was satisfying. It was a good, patient performance."
Coach Declan Kidney praised his side's ambition but accepted it must be reined in on occasion.
"We did some simple things well. In the second half we put away our scores very well and we're delighted with that," he said.
"There was a bit of wearing down that had to be done in the first 50 minutes, as there are in all Test matches.
"We could probably have done a little more of that in their half rather than ours, but I can't fault the boys for trying to play.
"We had the courage to play, but what we need to do is get the balance right.
"That comes with playing together and the more time we spend together the better we'll become.
"But can't go away thinking everything's great just because we scored a few late tries."
Italy coach Jacques Brunel admitted the Azzurri paid the price for a poor second-half display that saw Ireland run in three of their five tries.
"We had two different teams out there. In the first half we tried to play and kept the score close," said the Frenchman.
"But in the second half it was completely different, we suffered beneath the Irish pressure and made many mistakes."