Head coach Rob Baxter unhappy with Exeter Chiefs display
Last updated on .From the section Rugby Union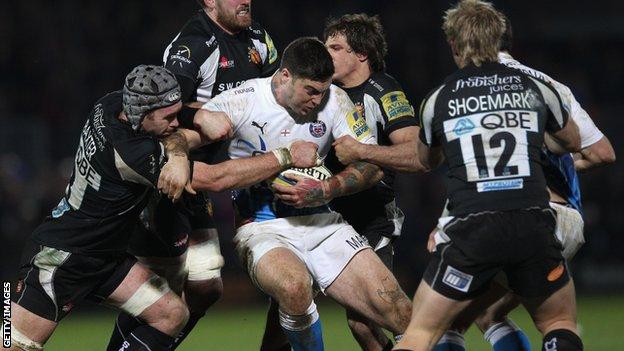 Exeter Chiefs boss Rob Baxter says his side did not play to their potential in their at Sandy Park.
Exeter's three-game winning streak was ended after Tom Heathcote's late penalty sealed a win for Bath.
"It's disappointing because I don't think we played as well as we could," Baxter told BBC South West.
"We made too many mistakes, we coughed up too much soft ball, we gave away too many soft penalties to stand here and say we're happy - we're not."
He added: "If anything happened in the last 20 minutes it was that Bath out-disciplined us.
"We gave away three penalties on the bounce and we gave up the match-winning score and that's something you just can't afford to do."
But Baxter said he remained confident that the side would improve on the performance.
"Sometimes you lose games and you play well and you're pretty much maxed out," he said. "I don't think that's happened, but it's not the end of the world.
"We could have easily lost the game last week in the last few minutes, and it wouldn't have made us a worse side. [The] same [goes] with today, we could have scored something at the end, it doesn't necessarily make us a better side.
"It's frustrating in a way, but it's also nice in some ways because if we'd have played absolutely flat out and come up short I'd be more worried about that.
"I think the fact is that we had a little bit more in us than we've shown and on another day we could have won that game and that's encouraging for us."