Andy Robinson must remain Scotland coach - Peter Wright
Last updated on .From the section Rugby Union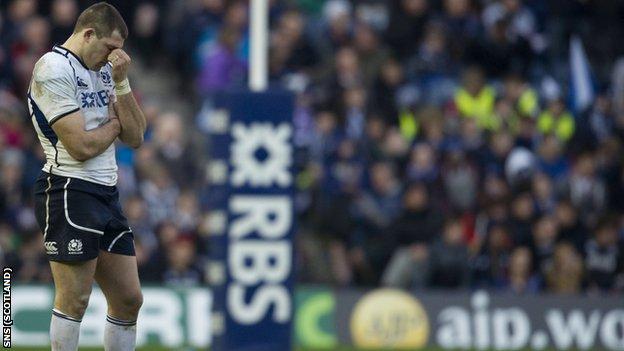 Scotland must stick with coach Andy Robinson despite five straight defeats, according to former international forward Peter Wright.
The 23-17 defeat at home to France gives Robertson a Six Nations record of two wins in 13 outings.
But Wright told BBC Scotland: "I think we've got to stick with him. I think the players like him.
"I think the biggest majority of the public like the guy. They can see he's got real passion for the team."
Wright thought the Scots are edging closer to a victory while Robinson is blooding new talent into their line-up and producing better performances than previous incumbent Frank Hadden.
"He is improving the team, there's no doubt about it," he said. " The one thing we've got to learn to do is win games.
"But, despite the defeat, we go over to Ireland with a lot of confidence now.
"Andy is his own biggest critic. The results are very important, but what you've also got to look at is how we're performing, how he's brought the young guys through.
"At the end of Frank's tenure, we were getting beat pretty easily.
"The most important thing is, who do you bring in if you get rid of Andy? Who's better than him that's going to come and do the job for Scotland?"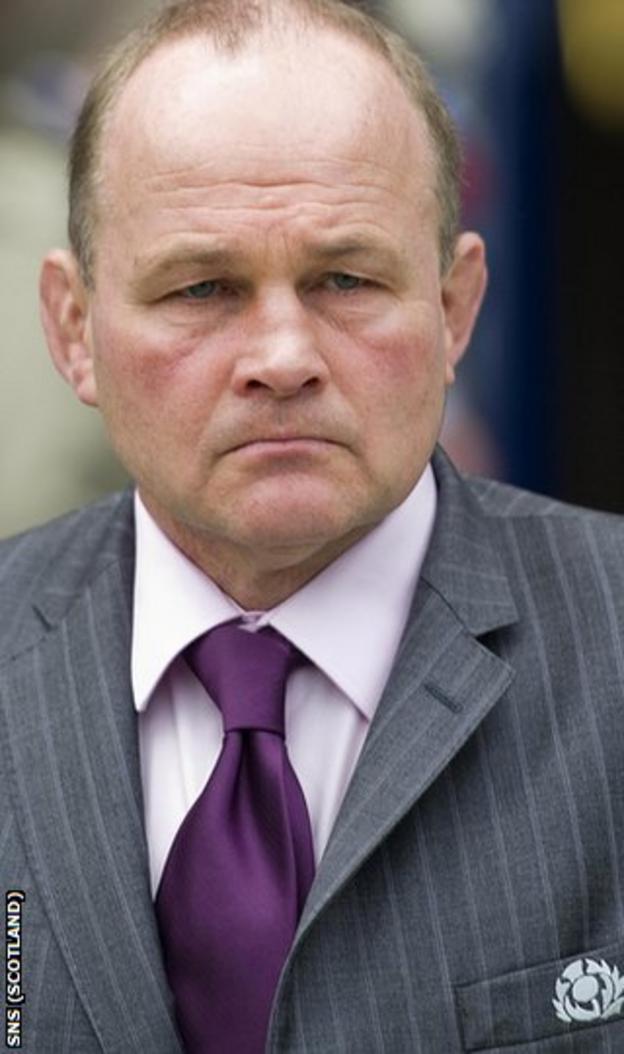 Wright thought a victory was just around the corner if the Scots continue to improve under their English coach.
"We should've beat England," he said. "If we had played against England like we did against France, we would have won that game.
"And yesterday we were probably the better team for big parts of the game and just that lack of belief is hurting us at the moment.
"The guys are working really hard, they are creating opportunities, we scored two cracking tries.
"We've just to make sure that, with all that pressure and territory, that we can keep the scoreboard ticking over."
Wright would not blame Robinson for the opening defeat by England, after which veteran Cardiff fly-half Dan Parks announced his international retirement after receiving public criticism.
"Hindsight is a wonderful tool and everybody believed that selecting Dan Parks was the right thing to do then obviously he gets pilloried for one mistake," insisted Wright.
"He gets the whole blame when the whole team has to really take the blame.
"But we are where we are now and we've brought in Hogg, we've brought in Jones, Laidlaw's there, Duncan Weir came off the bench yesterday for 30 minutes and looked pretty good.
"The young guys in the forwards, like David Denton and Ross Rennie, Richie Gray, are all performing really well.
"Ross Ford is playing as well as he ever played, so the guys are actually now performing.
"What we've got to learn to do, and this is the difficult part in international rugby, is to win.
"We've lost our last five games, but we've lost those games by about a score or maybe two. They've been really close.
"This time three or four years ago, we were getting beat by 20 points and we were never in the game."