Wales in the Six Nations: Shane Williams answers your questions

By Shane Williams
Wales' leading try-scorer and BBC pundit
Last updated on .From the section Rugby Union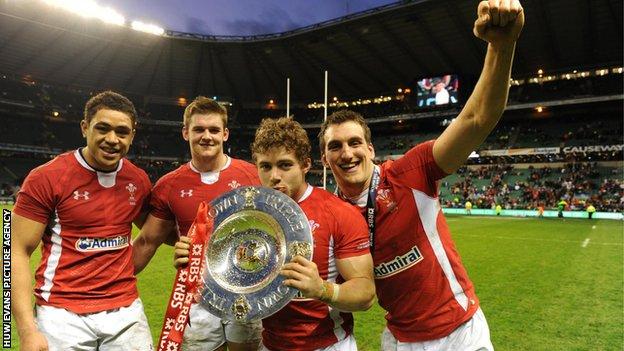 Wales' record try-scorer Shane Williams answers a selection of your questions after Wales secure the Triple Crown with victory over England.
Shane was there at Twickenham to witness Wales seal their first Triple Crown on English soil with the 19-12 win.
This is the first Six Nations since Williams retired from international duties in December.
Given potential return of previously injured players would you make any unforced changes to Welsh team for Italy game? Adrian Hockin
This is hard one. I wouldn't make too many changes because you've got to have consistency. But even though Wales have won their first three games. I think they can play far better. To do that I think we have to keep the players together. What may happen is that the players who are carrying a few niggles should rest for the Italy game. I think Sam Warburton took a bang to his knee against England, so if Sam isn't 100% I would play Justin Tipuric, who is a magnificent seven himself. He's just very unfortunate he's got Sam in front of him at the moment. Jamie Roberts is also doubtful so you would have to bring Scott Williams into the centre and add Ashley Beck to the bench. But I'd keep the changes to a minimum - if it's not broken then don't fix it I say.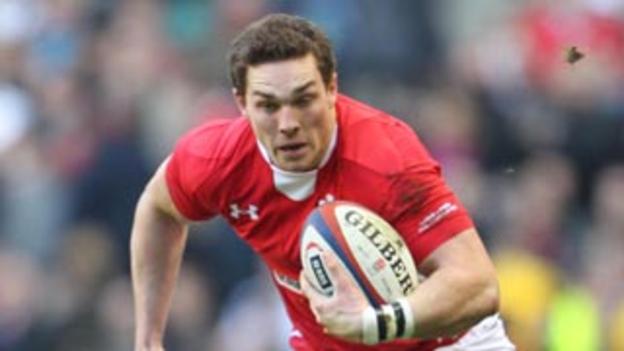 I thought Leigh Halfpenny was again outstanding on Saturday, and he is a player of similar physical stature to yourself. What advantages and disadvantages are there in being one of the smaller players on the pitch, and did you ever feel intimidated when facing much bigger opponents? Who was the player you most feared playing against? Matthew Ward
Leigh Halfpenny obviously looks small compared to the other guys he's surrounded by in the backs at the moment but he is still about 5ft 9in. And I can assure you he is built like Arnold Schwarzenegger. He's very strong, very powerful and he doesn't get intimidated by the bigger guys and that's being reflected in the way he's playing at the moment. He is taking some big hits but he's getting back up. He's one of the top players in the Wales side at the moment and playing with a lot of confidence. He's certainly far bigger than me and I don't think intimidation is an issue at all with him. As for me, I was never intimidated by players. I certainly relished the challenge of playing against bigger guys. In fact, I was more comfortable playing against bigger guys because I found it easier to manipulate them. They were far easier to beat, and if your tackle technique was right they were easier to bring down as well.
Wales has shown much promise, given us some cracking games and delivered a Triple Crown in a relatively short space of time... but I've lived through a few false dawns in the past and I've seen you play in some impressive Wales teams. What do you think - how special is this current Wales team? Mark Withers
Wales are a very good team. It has a good blend of youngsters coming through and they have this no-fear attitude that I felt during the World Cup. They were fearless and I had never experienced that attitude before in a Wales team. The self-belief running throughout the squad and management is just unbelievable. They thought before the Championship they were going to win it, and you can see that in the way they play. It's gone from a team that played well but ultimately lost, to one that after 65-70 minutes you can't see them losing. They are not the finished article but they have the right attitude to go away to places like the Aviva Stadium and Twickenham and win.
Do you feel that after Saturday's below par performance against England that the squad can use the fact they won without playing at their best to move on and win a third Grand Slam in seven years?Gareth Davies, Devon
Yes I think they will be encouraged by the fact that they won without playing really well. But take nothing away from England. They did their homework on Wales and it was a good English display. The attitude of the Wales guys right up to the last minute was very impressive highlighted by the way Jonathan Davies and Leigh Halfpenny put in that try-saving tackle on David Strettle at the death. Of course Wales can go on and win a third Grand Slam but I don't want to jinx it. But they are the best side in the Six Nations Championship.
How did England keep our backs so quiet, and how are we going to score tries against the French should they use the same style of defence against us? Andi (a Welshman in Vietnam)
England defended very well. They expected George North and Jamie Roberts to be direct and they double teamed them. England worked very well as a 10, 12, 13. We did exactly what we had to do to win that game. It was two defences going flat out against each other and you could feel the hits going in on the sidelines. It was an individual try that won it in the end in quite strange circumstances. I think England have got a better defence than France and Wales do manage line breaks.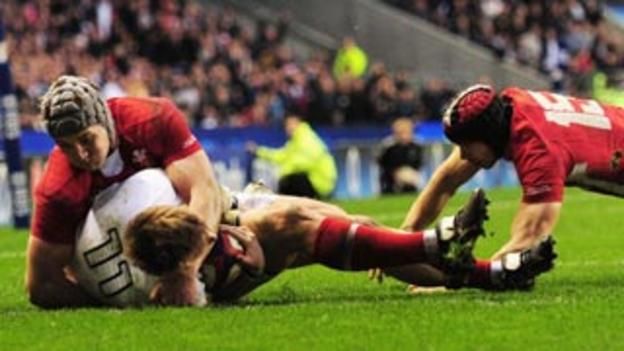 Wales' more successful teams struggled, arguably, to take their amazing European form over to the southern hemisphere. Do you see that as being a potential problem for this growing team? Andy
We should have beaten South Africa during the World Cup. If we played the Springboks last weekend I think we would have won. It's just a question of developing that winning mentality. The likes of New Zealand, Australia and South Africa know how to win big games. Wales and the northern hemisphere teams don't. There has always been a big divide between the top three and fourth place in the world. We are getting there - winning helps. The performances might not be spectacular but they are finishing games strongly. In the past we have been two points up against the likes of the All Blacks at half-time and then been blown away - that's not happening anymore.
Now that you have (sadly) retired from international rugby, you will no doubt have loads of job offers ranging from being a pundit for the BBC, commentating to coaching. Is it an ambition of yours to one day coach the Wales team?Dave
My ambition as a youngster was to be a Welsh rugby player. I worked my socks off to get there. I never grew up wanting to coach Wales. But of course if the opportunity came along at a later stage I'd love to coach Wales. I'm still doing my coaching levels at the moment, so that would be a long way away. At the moment I'm just enjoying doing the punditry and I'm involved in a couple of business ventures - it's an exciting time for me, but who knows what's round the corner?
Do you think the referee made the right call on David Strettle's disallowed try? Should the attacking team be given the benefit of the doubt if television pictures are inconclusive? BBC Sport
To me inconclusive is inconclusive. You really can't give a try if it's inconclusive. It was a massive decision for the referee. It was a gutsy call and I'm just glad I didn't have to give it. It was 50-50 but it was inconclusive, especially as George North's 50-inch quads were in the way. I don't think there is anything such as benefit of the doubt. The credit must be given to Leigh Halfpenny and the way the guys scrambled across to get back there.