Northampton Saints eye share sale cash boost
Last updated on .From the section Rugby Union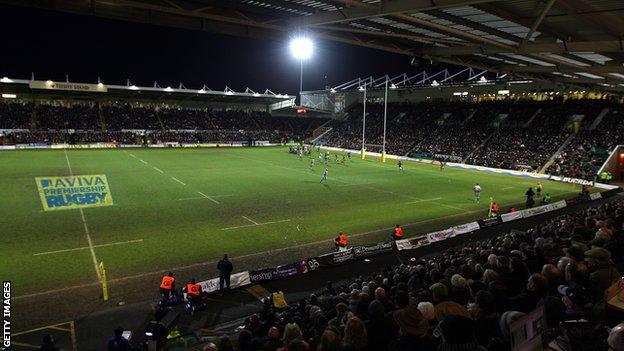 Northampton Saints will receive a financial boost with the proposed sale of 500,000 shares held by club members.
The money raised will be invested into the planned development of the North Stand at Franklin's Gardens.
"It's really great news for the club and a sign of loyalty," chairman Leon Barwell told BBC Radio Northampton.
The shares were initially handed to members of the club as part of the transition from amateur to professional rugby in 1996.
Barwell's father, Keith, invested £1m into Saints at the time, representing two thirds of the club's ownership, with the 500,000 shares constituting the remaining third.
"The club at that point was owned by amateurs," Barwell Jr added. "There were 2,000 members and at the time they converted their value in the club to shares.
"So they had 500,000 shares and there was investment from other sources, not least my father, in order for the Saints to turn professional and pay the players.
"They now feel the time is right for them to dissolve the original members' club and sell the shareholding of 500,000 shares.
"It is a sign of their great loyalty and support to donate that money back to the club to assist with the redevelopment of the ground. We have got a special set-up at Northampton."
Meanwhile, Barwell has revealed the club have submitted a pre-planning application to Northampton Borough Council for the Franklin's Gardens work.
The project will raise the capacity of the ground from 13,500 to 15,500, allowing the Premiership side to host games in the knock-out stage of the Heineken Cup.