Jersey look to improve St Peter ground
Last updated on .From the section Rugby Union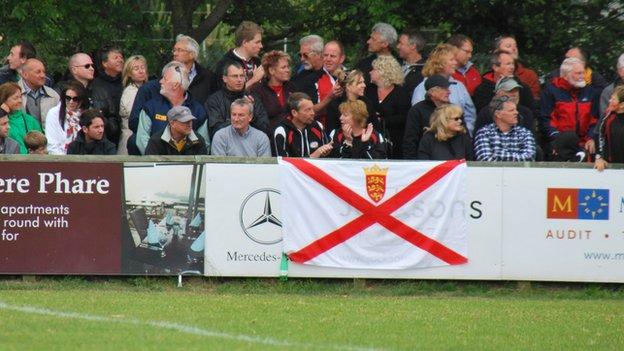 Jersey chairman Bill Dempsey says the club is in talks to try and improve their St Peter ground.
Jersey have spent more than £500,000 on improvements in the past few seasons but Dempsey says facilities for fans have got to improve.
"We've just got to do something to make more use of what we've got here," he told BBC Radio Jersey.
"If you're going to come in and pay your money to watch the match you need to be able to see it.
"So we're just looking at ways where we can hopefully put in some sort of a standing area or terraced area or something to create an area for people to watch the match."
Dempsey says the favoured area would be at the Rue des Landes end of the ground.
The club are in talks with Jersey's Transport and Technical Services department about plans to give up some of their land at that end for a footpath along the road and build a terrace for people to watch.
St Peter has only seen a small stand and second clubhouse built since the club's rise up English rugby's pyramid began seven years ago.
But Dempsey admits that if the club does get promoted to the Championship, the second tier of English rugby, ticket prices will probably have to rise.
Currently members pay just £3 to watch a game while non-members are charged £10.
"Playing in the Championship will certainly be more expensive, I doubt very much that we'll get any travel funding from the RFU, that'll certainly be withdrawn I think," Dempsey said.
"Even at the moment in National One, at £3 for members and £10, there's only one place that's cheaper than us and they do £9 for everyone.
"We'd have to look at doing something, we don't know yet, it's always a very emotive subject."
Jersey are going for a fourth promotion in five years, and promotion to the Championship would be the highest level the club could realistically achieve as they do not have the infrastructure to play in the Premiership.
Dempsey says it is important that the club carries on the momentum of so many promotions in such a short space of time.
"If you're ambitious to do something you've got to go with that ambition because it'll never come back," he added.
"You can't say 'next year' because next year the opportunity might not be there, you've to take the opportunity when it comes.
"If the opportunity comes we would gratefully take it, it gives a huge window of opportunity for the players we have."