Welsh rugby at crossroads says WRU chief Roger Lewis
Last updated on .From the section Rugby Union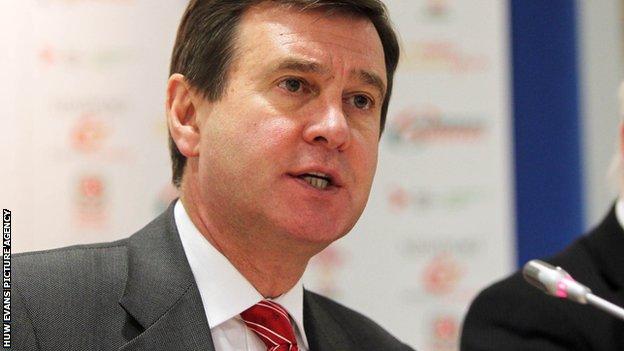 Welsh Rugby Union group chief executive Roger Lewis has said the game in Wales is at a "crossroads."
Wales' four regions are enduring a difficult time with dwindling crowds and star players joining French clubs.
But Lewis believes co-operation between the Union and the regions will be beneficial for the game's long term future.
"We are at a fundamental crossroads in the history of Welsh rugby," said Lewis.
"We are at a critical stage and that's what is so exciting because if we get this right we will come up with something in world rugby that will be the envy of the world.
"We've got to think differently. We cannot think we've just got to fix what's gone on before.
"We've got to come up with something that's far more radical and is far more sustainable that will take our game forward."
While the national side are on a high after winning the Triple Crown and on course for a third Grand Slam in seven years, the regions have endured a difficult time.
The four regions - Cardiff Blues, Newport Gwent Dragons, Scarlets and the Ospreys - have announced a salary cap of £3.5m which will begin at the start of the 2012-13 season, a move welcomed by the WRU.
Amid concerns over "tough economic challenges", the regions hope the cap will ensure greater financial security and allow them to continue to develop young players.
And following joint talks between the four regions and the WRU a financial review is currently being undertaken by accountancy firm PricewaterhouseCoopers.
"We've had problems in the past and we have sorted them and I feel this is a problem we can sort out," Lewis said in an interview on BBC Wales' Scrum V programme.
"The key thing about the review is that it's not going to come up with the answers
"We have got to come up with the answers. We've got to take ownership [and] we've got to take responsibility.
"What the review will give us is information which will help us frame our thinking. We are going to sort this.
"We're going to fix it by working together by displaying a degree of unity which Welsh rugby has never experienced in the past.
"I'm confident by coming together, which we are doing now, we will fix the problems that face us.
"Without doubt they are serious problems but we will fix them for the long term.
"I passionately believe that if we are inseparable we will be insuperable. That's why I'm confident we will deliver a solution for Welsh rugby.
"There's enough money I feel within the game to sort this out. We've committed with our agreement to put some £30m of cash to regional rugby.
"But the way we are going to sort it out is by bringing it together and joining it up and that's why I'm confident we are going to fix it."
A number of high profile players will leave Wales at the end of the season with Gethin Jenkins, Luke Charteris, Huw Bennett and Aled Brew joining French clubs.
They follow Mike Phillips, James Hook and Lee Byrne who left the Ospreys for Bayonne, Perpignan and Clermont respectively at the end of the 2010-11 campaign.
Lewis concedes it will be difficult to prevent players from leaving Wales but says the French model is "unsustainable."
"We need to do everything we can to keep our players here and the way we're going to do it is by working together with our four regions," added Lewis.
"You will not keep all of your players in one country. That simply doesn't happen. People want to experience other things.
"But we must keep as many players as possible here in Wales.
"The way we are going to do that is by creating an environment here in Wales which is so attractive that players simply will not want to leave.
"And underpinning that has to be the finances that we can compete with as many of the clubs, provinces and countries in the world game.
"We won't be able to compete with everyone simply because it's a matter of numbers.
"The salaries that are on offer, particularly in France, are simply unsustainable and also unrealistic.
"I simply think it cannot continue at this pace. We've seen that already in France - Stade Francais was one of the biggest clubs in France with one of the biggest wage bills.
"That has now gone and those players have left. We've seen it time and again [with] numerous other examples.
"It's not sustainable but in the short term it can be extremely attractive for certain players and that's what we need to address."