Harlequins director Conor O'Shea stands by Danny Care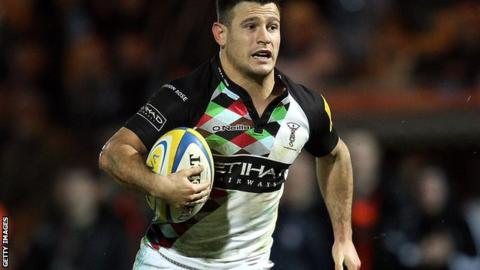 Harlequins director Conor O'Shea says the club will stand by Danny Care after he was arrested and cautioned for the third time in three months.
The 25-year-old scrum-half was caught urinating in public after a night out in Leeds on Sunday.
"We have no intention of doing anything other than supporting him and continuing to work with him so he understands his position and the decisions he makes," O'Shea said.
Care was dropped by England in January.
The decision by the national team's caretaker coach Stuart Lancaster came after Care was charged with drinking and driving in the early hours of New Year's Day.
He was fined a total of £3,100 and banned from driving for 16 months for the offence, which followed his arrest in December for being drunk and disorderly, for which he received an undisclosed fine from Quins.
But Care, who has made 109 appearances for the Premiership side and won 32 caps for England, said the incidents should not be connected.
He told the Daily Mail: "After an evening out with friends in the centre of Leeds, after a long time queuing, I was in a taxi home when I got caught short and asked the taxi driver to pull over so I could relieve myself behind a nearby building.
"The British Transport Police found me doing that and took me to the nearest police station where I was released with a caution.
"I understand the link that will be made to previous offences but, as with my fine in December in Weybridge, the issue is more one of a small bladder than excessive drinking.
"I am working hard on and off the pitch to overcome my issues and while this is another small setback I will continue to do that."
O'Shea added: "The situation Danny finds himself in is unfortunate and one that could and should have been avoided."