London Irish head coach Toby Booth vows to fight on
Last updated on .From the section Rugby Union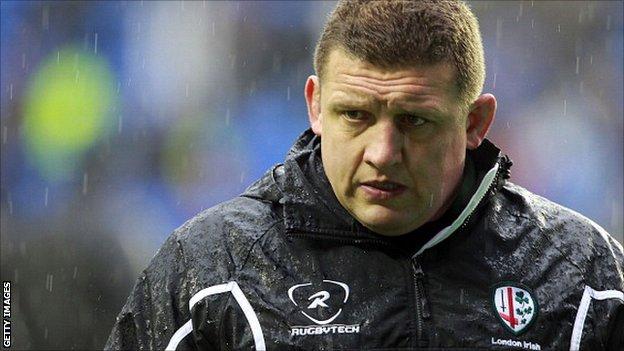 London Irish coach Toby Booth has vowed to fight on in the face of a run of results which has seen the Exiles slip to ninth in the Premiership.
Four consecutive defeats have ended any hopes of making the play-offs and chances of qualifying for the Heineken Cup are increasingly distant.
Booth, who has had to cope with senior players announcing their departure, is determined to turn things around.
"No-one wants this team to win more than me," he told BBC Radio Berkshire.
Booth's side were beaten by 18-13 by Wasps on Sunday, and also lost to bottom side Newcastle in the run of four defeats.
They now have an enforced break before the fixture against Leicester at the Madejski Stadium on 25 March.
Booth believes the break may not be a bad thing.
"It's good if some people have some time away. People need to refresh mentally, we need to get a few more people physically prepared," he added.
"We have a massive game against Leicester which is the St Patrick's Day fixture [the nearest available game to 17 March] and is always well supported and we will need that support.
"It's never nice when you lose but the sign of a good side is how you respond.
"There are lots of changes going on behind the scenes and that's an element we all have to deal with because ultimately it is about the here and now.
"What we produce each week is a reflection on everyone at the club and we need to be better."
Booth insisted he can cope with the pressure being heaped on him.
"No one enjoys negative pressure," he said.
"Positive pressure is always good. I am employed to do deal with that pressure and it's certainly not something I am going to shy away from."