Tommy Bowe signs deal to join Ulster from Ospreys
Last updated on .From the section Rugby Union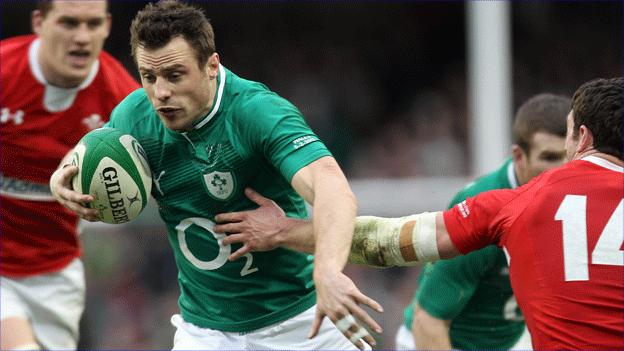 Tommy Bowe is to leave the Ospreys at the end of the season after agreeing a three-year contract with Ulster.
The Ireland winger was also being courted by Munster, but has opted to return to his native province, for whom he previously played from 2003 to 2008.
The 27-year-old had one year of his contract with the Ospreys remaining.
Bowe has scored 24 tries in 47 Test appearances for Ireland and has already recorded five tries in the current Six Nations campaign.
Ospreys chief operations officer Andrew Hore said: "We are sorry to see him leave, but the reality is that with the ever-increasing number of international fixtures on the rugby calendar it makes little sense for us as a business to invest heavily in marquee non-Welsh qualified players who will be unavailable to us for large percentages of the season, particularly in the current economic climate."
"Tommy is a proud Irishman who wants to represent his country to the best of his ability, which means attending all IRFU commercial and rugby events throughout the season.
"With this in mind, all parties are in total agreement that the best place for him to be playing his rugby is at home in Ireland hence us coming to this joint agreement.
"We remain totally committed to developing local young talent to play for both the Ospreys and Wales and our record for doing so is unsurpassed since 2003.
"We have invested heavily in our development pathway for that very reason, and are seeing outstanding results.
"In particular, there is considerable strength in depth in the wing position, with a number of home-grown players now starting to make an impact."
The return of the British and Irish Lions player will come as a boost to Ulster's plans to become a major force in European rugby.
Bowe has won multiple personal accolades in recent years, including being named the Player of the Championship in the 2010 Six Nations.
He was part of Ireland's Grand Slam winning team of 2009, scoring the decisive match-winning try against Wales to secure a clean sweep of victories.
Bowe admitted to having "mixed emotions" about his move.
"I'm sad to be leaving a club and a region that I have been proud to call my home for the last three years and that has improved me immeasurably both as a rugby player and as a person," said the Monaghan-born back.
"I am indebted to the staff, coaches, management, team-mates and fans of the Ospreys, for welcoming me so warmly and making my time here so special.
"That said, I am also delighted to be returning to Ulster, the province I grew up wanting to play for and where my family live.
"[Ulster director of rugby] David Humphreys was a mentor of mine in my early playing days and we have remained friends during my time at the Ospreys.
"His vision for Ulster is impressive, with Ulster-born players at the core of this vision.
"The vibe at Ulster is undeniably positive - I've been training and playing with some of the Ulster boys during the Six Nations and there is a real energy and sense of anticipation as to what lies ahead for this team."
Humphreys said: "We are delighted to be in a position to finally confirm that Tommy will be playing his rugby with Ulster next season and I'd like to thank the IRFU for their assistance in bringing him home.
"The speculation around his return over the past weeks is testament to the regard the Ulster Rugby public have for him.
"Skillful, physical and a proven finisher with a knack of being in the right place at the right time, there's no doubt that Tommy has consistently been one of European rugby's best players over the past few seasons and he'll bring a lot of experience and flair to our backline."
Ulster recently announced that Northampton number eight Roger Wilson would also be returning to the Irish province for next season.