Richie Gray visit a boost for Shetland rugby
By Jim Mason
BBC Scotland rugby reporter
Last updated on .From the section Rugby Union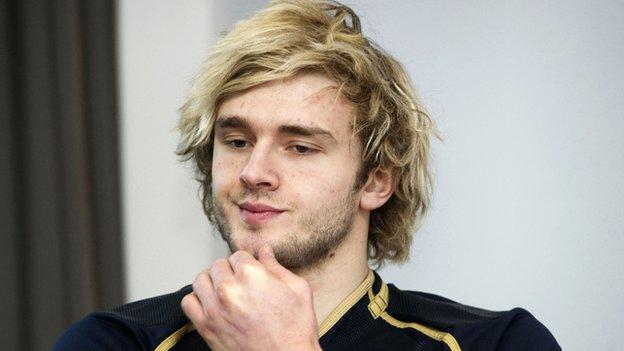 Not many teams in Scottish rugby have to travel on an overnight ferry to fulfil their away fixtures, but it's commonplace for the players and supporters of Shetland rugby club.
Despite the isolation from the rest of the country, the sport itself is in good shape in Shetland.
So much so that for the first time they have their own development officer.
Daniel Meadows, a 20-year-old prop with the local team, has been appointed to try and capitalise on the mushrooming interest in the game in the Northern Isles.
To support Daniel in his work, Scotland second-row forward Richie Gray visited Shetland to try and help popularise the game - particularly amongst school children.
Richie took part in training sessions with primary and secondary kids and fielded a host of questions, ranging from who was the toughest team to play against to whether his feet hang over the edge of the bed.
He also met members and players of Shetland rugby club at the ferry terminal as they prepared to leave on the Friday night boat, bound for Aberdeen and a match against Aberdeen University Medics the following day.
Richie was also presented with the club's distinctive Fair Isle-patterned shirt.
Commenting on his visit Richie said: 'I've been delighted at the warmth of the welcome and I wish Daniel well in the future.
You can see more of Richie Gray's visit to Shetland on Sport Nation - at 1900GMT, Tuesday 6 March on BBC Two Scotland.