Can Brian Smith inspire a London Irish revival?
By Graham McKechnie
BBC Berkshire
Last updated on .From the section Rugby Union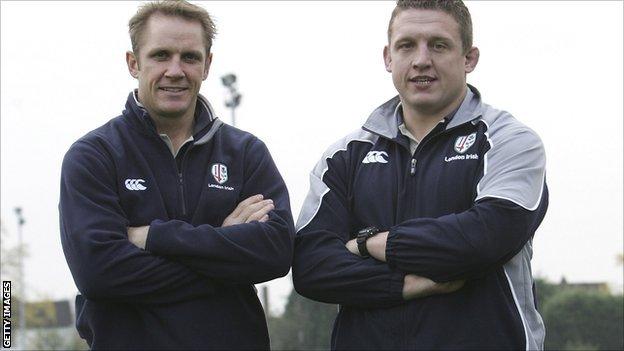 Having followed the fortunes of London Irish for the best part of a decade, few stories cause genuine surprise any more.
These have been troubled times for the Exiles.
Over the past six years, the club have enjoyed unprecedented success, under Smith and, latterly, Toby Booth.
Together, they took Irish to a European Challenge Cup final, a Premiership semi-final and a Heineken Cup semi-final.
In his first season alone at the helm, after Smith's departure to the England set-up, Booth led Irish to within a couple of points of being crowned champions of England.
Since then there has been a notable decline in fortunes. Last season's sixth-place in the Premiership and qualification for the Heineken Cup was a decent return.
This season Irish have slid to ninth and, when you add to that the high number of established players who left at the end of last season, with more heading out this summer, the pressure on Booth has been growing.
Some supporters have taken to message boards and social media to vent their frustration and their dissent is understandable when results are considered.
Whereas once Irish were the perennial relegation candidates, expectation levels were raised to the level where qualification for the Heineken Cup was viewed as the minimum.
The return of Smith will go some way to allay some of their fears, as well as easing the burden on Booth.
However, Smith will face the same difficulties as Booth - most significantly that the coffers are becoming increasingly bare.
Attendances at the Madejski Stadium are down and a great deal of time and money has been spent as Irish try to relocate their training base from Sunbury to a state-of-the-art location nearby.
The upshot is that a significant cut to the wage budget is necessary.
It is inevitable that certain players will leave to earn more elsewhere, regardless of the chances of honours or quality of man-management, but Smith and Booth can still salvage something from this season.
To do this it is essential that they ensure the players leaving at the end of this season continue to give their all.
Irish's recent success has been built largely on academy players coming through.
They are not a club with financial clout, or indeed the inclination, to sign star players. So patience is still required of the supporters as the next crop of youngsters - notably Jonathan Joseph, Matt Garvey and Jamie Gibson - fully establish themselves.
Where this leaves Booth is another key factor in Smith's return. Last season Booth clearly benefited from the presence of Jake White at the club as a rugby consultant.
Anyone else coming in as a permanent director of rugby may have been a step too far for him, but they have remained close since Smith's departure.
The hope is that Booth can now do what he does best: coaching. No-one within the club has ever questioned his abilities, but his recent body language suggests he is feeling the strain.
London Irish must hope that he stays as a Smith-Booth axis is ideal for the Exiles.
There will be a surge of optimism at this news and there is reason enough to think the good times will return in the not too distant future.
Graham McKechnie is BBC Radio Berkshire's London Irish commentator.