England Women beat France in Six Nations to stay on track for title
Last updated on .From the section Rugby Union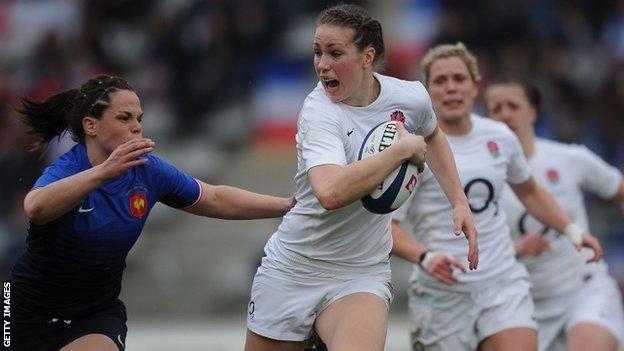 England Women are on the cusp of a seventh successive Six Nations title after they beat France 15-3 in Paris.
England led 3-0 at half-time from an Emily Scarratt kick before her try was converted by captain Katy McLean.
A second try from Kay Wilson was enough to ensure victory.
Aurelie Bailon responded with a late penalty for France but England now head to Ireland on Saturday knowing that victory will secure a sixth Grand Slam in seven years.
England head coach Gary Street said: "This was a fantastic performance. The players dug deep in an intimidating atmosphere against a seriously physical French team.
"We defended magnificently and controlled the ball for long periods of time and scored two outstanding tries that would be worthy of being scored in any world-class international rugby match.
"Next up is Ireland and we have got to keep our feet on the ground. We are not thinking about the title or the Grand Slam, next week will be all about getting the job done."
After a hard-fought opening it was the visitors who got the first points on the board with a 27th-minute penalty from Scarratt.
The defending champions came into their own in the second half. And once hooker Victoria Fleetwood did the hard work at the breakdown - after France had come close to scoring - Scarratt charged upfield and evaded the attentions of French wing Laurelin Fourcade to score.
McLean added the conversion to hand England a 10-0 lead.
England's momentum continued to gather and some fine play by Rachael Burford, Wilson and McLean inside their own 22 allowed wing Wilson to make a clean break, and like Scarratt earlier, she charged 50m upfield to score.
Bailon stroked over a 59th-minute penalty for France but, despite a late charge, England's resolute defence held firm.
TEAM LINE UPS
England Women: 15 Natasha Hunt (Lichfield), 14 Kay Wilson (Bristol), 13 Emily Scarratt (Lichfield), 12 Rachael Burford (Richmond), 11 Michaela Staniford (Wasps), 10 Katy McLean (capt - Darlington Mowden Park Sharks), 9 La Toya Mason (Wasps); 1 Laura Keates (Worcester), 2 Victoria Fleetwood (Lichfield), 3 Sophie Hemming (Bristol), 4 Rowena Burnfield (Richmond), 5 Tamara Taylor (Darlington Mowden Park Sharks), 6 Marlie Packer (Bristol), 7 Margaret Alphonsi (Saracens), 8 Sarah Hunter (Lichfield).
Replacements: 16 Amy Turner (Richmond), 17 Rochelle Clark (Worcester), 18 Rebecca Essex (Richmond), 19 Isabelle Noel Smith (Bristol), 20 Georgina Rozario (Lichfield), 21 Ceri Large (Worcester), 22 Kimberley Oliver (Bristol).
Essex for Burnfield, Clark for Keates, Rozario for Mason (all 53), Noel Smith for Packer (56), Turner for Fleetwood (62), Oliver for Hunt (66).
France Women: 15 Jessy Tremouliere (Romagnat), 14 Laurelin Fourcadem, 13 Elodie Poublan (Montpellier), 12 Sandrine Agricole (Rennes), 11 Caroline Ladagnous(Lons), 10 Aurelie Bailon (USAP), 9 Marie Alice Yahe (USAP), 1 Helene Ezanno (Rennes), 2 Laetitia Salles (USAP), 3 Christelle Chobet (Lons), 4 Marine De Nadai (Montpellier), 5 Cyrielle Bouisset (USAP), 6 Koumiba Djoussouvi (Lons), 7 Coumba Tombe Diallo (Bobigny), 8 Marie Charlotte Hebel (Rennes). Replacements: 16 Gaelle Mignot (Montpellier), 17 Elodie Portaries (Montpellier), 18 Safi N'Diaye (Montpellier), 19 Audrey Forlani, 20 Marjorie Mayans (St Orens), 21 Laura Delas (Lons), 22 Jennyfer Troncy (Montpellier).