Non Evans: Welsh women ready for their Millennium debut

By Non Evans
Former Wales full-back
Last updated on .From the section Rugby Union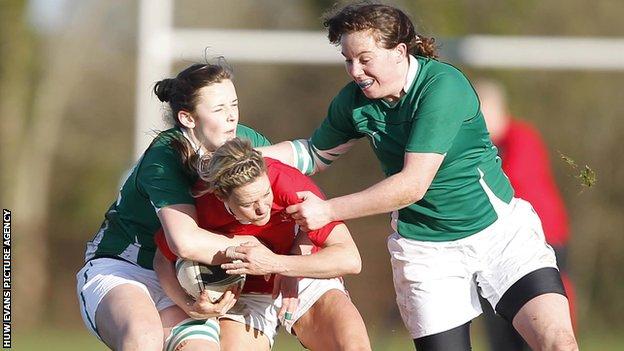 I have spoken to a few of the Wales players and they are really up for this clash against Italy on Saturday - the first women's international to be staged at the stadium.
The match kicks off after the men's game and is free for those who stay after the main event and also free for people to come in through Gates Two and Three.
Those who do come to watch will see a very determined Wales side keen to make up for that record defeat - 36-0 - in Ashbourne on 3 March.
There is some background to that loss. It was a rearranged game after the original fixture was abandoned at half-time because of frost.
As the Welsh Women only have a certain pot of money for their Six Nations campaign they were forced to travel to Ireland and back on the day. They were up at 4am and then home at midnight after a return flight from Bristol.
It was awful preparation, but just goes to show the difference between the amateur and professional games.
Added to that they lost influential captain Rachel Taylor just before the kick-off after she was banned by a disciplinary committee for four matches for stamping during the England defeat at Twickenham.
Those two factors really put the Wales team on the back foot in Ireland.
But hopefully better preparation and a more positive mindset for a game at the Millennium Stadium will see Wales return to some of the form they showed against Scotland to beat Italy.
Having said that Italy have beaten us twice in the last two years - at home and at Bridgend in 2010 when I was part of the team.
Those are the only two occasions the Italians have been successful over Wales and I believe Wales will return to winning ways on Saturday evening.
But they cannot afford to take the Italians lightly.
They are very much similar to their male counterparts. Their game is built on a forward platform, especially the driving maul, and a big kicking game from their outside-half.
The Wales team have been after some inspirational quotes from some former players and I just told them to make the most of the opportunity of playing at the Millennium Stadium and enjoy every minute.
I'm afraid I never got the opportunity to play there and it's going to be a big moment in the girls' rugby careers.
* Non Evans was talking to BBC Wales Sport's Richard Thomas