Six Nations: Scotland captain Ross Ford backs Andy Robinson
Last updated on .From the section Rugby Union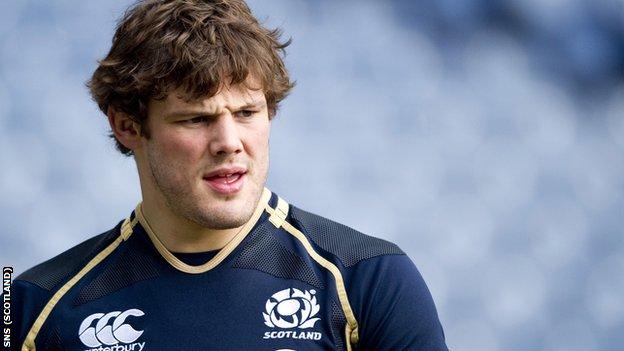 Captain Ross Ford says the Scotland squad are behind under-pressure coach Andy Robinson despite three straight defeats in the Six Nations.
Asked if the Scots needed to win in Ireland to secure the Englishman's future, Ford said: "Obviously, there is pressure to get results.
"Results are what matter. But I think, for me personally, the team is going in the right direction.
"The squad, we believe in the way Andy's trying to coach us."
The Scots failed to capitalise on chances to defeat England and France at Murrayfield, while they also squandered opportunities in the defeat sandwiched in between in Wales.
"It's about the players on the pitch making the chances count that we're getting and that's coming through the coaching we're getting when we're training," Ford told BBC Scotland.
"Every game, we've had opportunities to put teams under more pressure and close games out, but we've not been able to do that.
"So we go across to Dublin on Saturday again looking to start really well.
"I think the way we performed in parts against France is the best Scotland has played for couple of years now.
"So that's what we are going across on Saturday to do is perform like we have done but sustain it for 80 minutes."
Ford insisted he was not facing a tough task lifting the squad's spirits after three defeats.
"I think it is about keeping your chin up," he said. "There's no use getting down about it.
"It is mainly about keeping that enthusiasm there. It can get quite hard at times to keep that enthusiasm, so keeping that there is really important for me, making sure everybody is buzzing and, when we go out to train, we are training with a purpose.
"It's fun to do and that transfers into the way we try to play.
"You can see, when we are going well, it's something really spectacular at times. Keep that going for 80 minutes and the results will come.
"You have got to lead by example and I just go out and try my hardest. I believe I've led from the front in the way I've performed and I continue to try to do that.
"Obviously frustration's a big thing and there's no point worrying about things once they're done. It's about making sure you fix them for the next game."
While the lineout is a crucial area for Scotland, Ford expects the breakdown to be where the game is won and lost.
Ireland have effectively utilised the "choke" tackle in recent years, attempting to prevent a ruck forming, thus slowing down ball.
Centre Graeme Morrison revealed that the Scotland squad has been practising how to combat the technique this week.
"We have been working a wee bit on it in training this week, the way the ball carriers carry the ball into the contact and the supporting players around, how they deal with the Irish players that are doing it," he said.
Morrison also backed Robinson, adding: "He's put so much into turning us into the team that we are, a team that I believe can beat most rugby sides in the world."