Ex-Wales scrum-half Andy Williams plays for Luctonians
Last updated on .From the section Rugby Union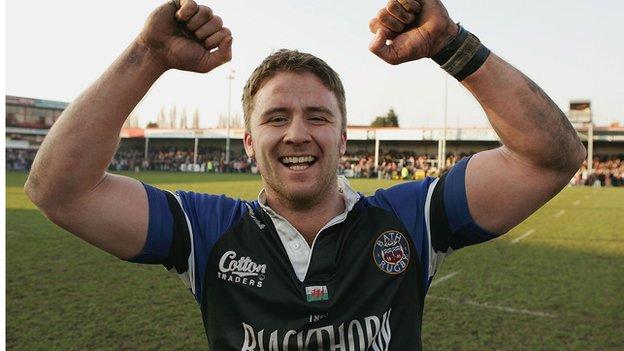 Former Wales, Bath and Worcester Warriors scrum-half Andy Williams has come out of retirement to help current club Luctonians.
Williams, 31, became head coach at the National Two North club when he retired from top-class rugby last year.
Director of rugby Alex Davidson told BBC Hereford and Worcester Williams had made an immediate impact.
"His timing of the pass to Alex James at 12 has seen Alex score one try and make some significant breaks," he said.
"When Andy puts his boot to the ball you can almost guarantee it rolls into touch in the far 22," he added.
Davidson insisted Williams had not intended to play again.
"Tongue in cheek, I made Andy register in the summer on the basis he might have to pull on the boots one day," he said.
"Then [fly-half] Will Burton rolled his ankle in a game and it hasn't recovered as yet so Andy stepped into 10.
"He trained at 10 in training on the Thursday evening and you could see his confidence building and his grin getting wider as the night went on.
"At the end of the session we couldn't get him in as he stayed out and practised his kicking, before announcing he would definitely be starting on Saturday," he added.
Williams played in wins over Sheffield Tigers and Stockport and is likely to figure again in the away trip to Hull Ionians on Saturday, 10 March.
But Davidson says it is not likely to be a long-term arrangement as Williams is keen to focus solely on his coaching role.
"Andy has got the London Marathon coming up so he is quite keen to take the boots off again as he doesn't want to get injured as he is running that for charity," he said.
"But he has indicated he wants to play one game at nine with Will at 10, to try to bring on Will's game in that way for next season.
"It's great that he has got the taste back and wants to put something into the squad that way."