Liam Middleton says Bristol can handle the play-off pressure
Last updated on .From the section Rugby Union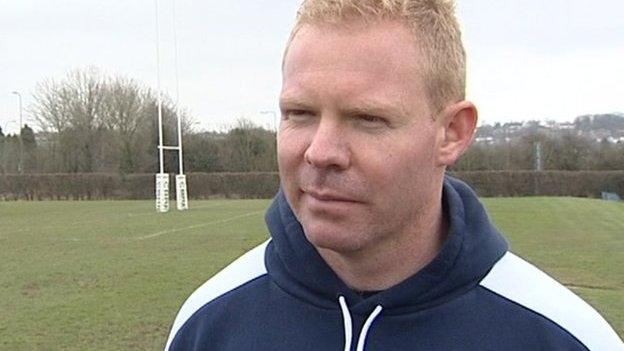 Bristol coach Liam Middleton is confident his side will handle the pressure of going into the Championship play-offs as league leaders.
Bristol travel to Doncaster on Friday night as they kick off their six-game play-off series.
"Our players want the pressure games, they are the games they want to play in," Middleton told BBC Radio Bristol.
"Doncaster are a very physical side, we beat them earlier this season but they've beaten us twice before that."
Middleton admits that his side have been drawn in a tough group, against teams which have provided stern tests throughout the regular season.
"We've got to get five wins to get into the semi-finals," he said.
"To get out of this pool is a hard task. We beat Nottingham on the last play of the game, we beat London Welsh on the last play of the game at home and lost to them away, this is a tough group. Getting out of this pool would be a pretty big achievement."
On-loan lock Glen Townson, who is a former Doncaster player, knows exactly what to expect from his former side.
"There's a little bit of pressure there, but I'm really looking forward to it. They came down to the Memorial Stadium a couple of weeks ago and scored 26 points, so even though we won the game to come down and score 26 points shows their threat. I'm really looking forward to getting back up there.
"They'll be looking for cheap shots at the bottom of the ruck but that's all part and parcel of the game. They're a good bunch of lads and we've got a big challenge ahead of us.
"They're a very physical team and I think it will be one of the most physical games of the year. Donny have always been known for having a strong pack and they like to play a direct game so we've got to make sure we front up when we get up there.
"The pressure games are coming up now, every player enjoys the big games and you want to look back on your career and say you turned up from these games and picked up the right results."