Six Nations: Wales relishing Grand Slam pressure
Last updated on .From the section Rugby Union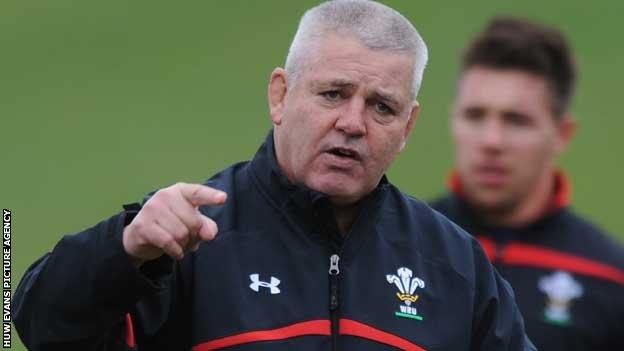 Warren Gatland has admitted he would "hate to see the reaction in Wales" if his Grand Slam chasers lose at home to Italy in Saturday's Six Nations clash.
The Wales coach expects his team to beat the Italians in Cardiff to set up a Grand Slam showdown with France on the Saturday of the Six Nations.
Wales have sealed a Triple Crown by beating Ireland, Scotland and England but want a third slam in eight seasons.
"We should win the game," said Wales chief Gatland.
"I would hate to see the reaction in Wales if we didn't win the game."
Wales have never lost to Italy at the Millennium Stadium despite losing to the Azzurri in Rome back in 2002 and 2006 - and Gatland's men are odds-on favourites to record a win on Saturday.
Gatland, who masterminded Wales' Grand Slam campaign in 2008, knows his side are favourites and is confident his squad are comfortable with the expectation.
"We know we are under that sort of pressure to perform," said the New Zealander.
"It has been a good mindset change because we have struggled for a while with being favourites and putting that kind of pressure on ourselves."
Gatland may acknowledge that Wales had previously struggled with the favourites tag but he has faith in a young side with has a sprinkling of experienced campaigners.
"It's just the transition of a team with a lot of youngsters without too much baggage," said Gatland.
"They have an attitude of just go out and play. We put pressure on ourselves to perform and the guys have fronted up really well."
Both of Wales' Six Nations Grand Slams - in 2005 under Mike Ruddock and 2008 - were completed in Cardiff so all the odds favour Wales backing up their status as World Cup semi-finalists by being crowned European champions.
And centre Jonathan Davies insists the competition for places are driving Wales to another clean sweep.
"The squad is pretty grounded," said the Scarlets star.
"We all know there is a lot of expectation on us, but I think we can handle that.
"The competition within the squad is fierce at the moment, and it is making training that much more intense. We are working at such a high level now in training."
Wales are overwhelming favourites to defeat Italy but Gatland is pleading for the Welsh public to be patient against their "dangerous" visitors.
"It's about us keeping our patience," said the coach.
"They will come with a lot of pride and physicality and they would have been heavily criticised for their last performance against Ireland, so that makes them even more dangerous.
"I presume Italy will be coming to the Millennium Stadium hoping to catch us thinking about the game against France the following week.
"It's a challenge for us to take things one step at a time and don't think too far ahead."