Cornish Pirates 'were rubbish' in Leeds draw, says boss
Last updated on .From the section Rugby Union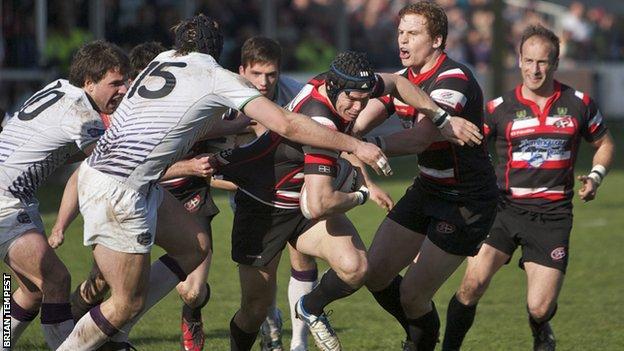 Cornish Pirates boss Chris Stirling has called his side's performance in their 14-14 draw with Leeds 'rubbish'.
Grant Pointer's early touchdown put the Pirates 7-3 ahead, but Stephen McColl struck back to give Leeds the edge.
Joe Ford's penalty extended the lead before Pirates went 14-11 in front through a penalty try before Ford's 66th minute kick tied the game.
"We were rubbish. It was a day when I don't think we could have been dumber," Stirling told BBC Radio Cornwall.
"It was disappointing in all aspects. We got a draw, but if a little bit of luck had gone their way they could have got a win.
"It was a game of missed opportunities and we should have been 20 or 30 points better than them," the New Zealander said.
Stirling felt there was not a single aspect of his side's game which functioned well in a draw which leaves the Pirates four points off Bedford, who achieved a bonus-point win over Rotherham.
"Our decision-making, accuracy, kicking, the whole lot, we were way off the mark," Stirling added.
"I'm really disappointed but I'm not as disappointed as the players.
"We'll look at it and identify the numerous point-scoring opportunities that we blew through lack of accuracy whether that be at set-piece, scrum or line-out," he added.