Northampton Saints' Tom Wood ending 'frustrating' spell
Last updated on .From the section Rugby Union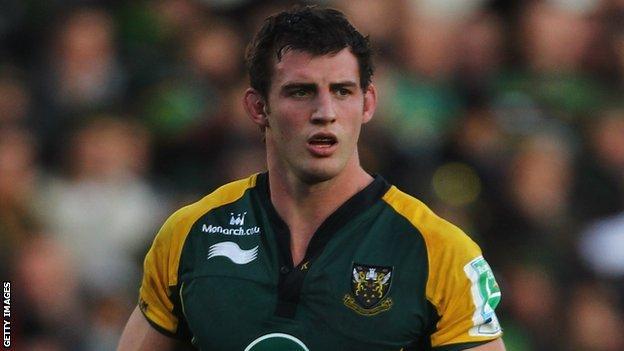 Northampton Saints' Tom Wood says he always expected to make an early return from a serious foot injury.
Wood told BBC Northampton: "I was massively up for it. It's been a frustrating few months.
"I haven't surprised myself. I'm just pleased to be back and days like this make it all worthwhile."
Wood, who had been linked with the role of England captain, has so far missed the Six Nations Championships.
"I didn't want to stop playing," said Wood. "I'd played for a long time on the injury and I didn't have to stop playing because of pain.
"I'm a back row forward and you're going to get injured occasionally.
"It's difficult missing big games, but I don't like missing any games, whether it be for my local club in amateur days or Six Nations games."
Wood says he has kept his distance from the Stuart Lancaster's England camp during his recuperation.
"I havent been involved at all. I've kept in touch with Stuart and the guys but I didn't want to be there cluttering up the place.
"The lads are doing a great job, so I'll leave them to it until I'm fit to be back in the shirt."
The former Worcester player has made fourteen appearances for Saints this season.
"I'm hoping not [to need an operation]. I've got some strength back, so hopefully I can avoid that by managing my load a little and staying heavily strapped."