Nottingham wasted great chance - Craig Hammond
Last updated on .From the section Rugby Union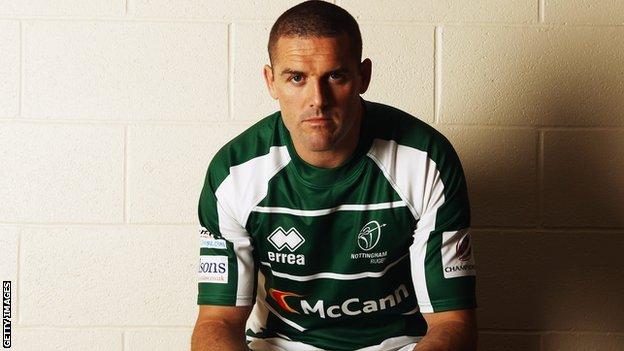 Captain Craig Hammond says Nottingham wasted a glorious chance to get their Championship play-off campaign off to a winning start at London Welsh.
The Green & Whites led by a point in the second half but capitulated and conceded three tries to lose 32-21.
"Everyone is disappointed. We didn't deliver and that is the most frustrating thing," Hammond said.
"Leading London Welsh 14-13 at their place is a good position to be in and we didn't take it.
He added: "They took their opportunities, when we lacked accuracy in our play during the final 10 minutes.
"We went there targeting a win and it's hugely disappointing that we came away with absolutely nothing and let them get away with five points like that.
"In the opening 20 minutes of both halves we put together good phases, we made line breaks we had chances to hurt them.
"If any other game, if we had the amount of line breaks that we produced down there, we would have come away with more.
"But instead we end up with just two tries and one of them was right at the end as a consolation to make the score look a little better for us."
Nottingham will look to make amends when they take on Doncaster at Meadow Lane on Sunday, 18 March.
"I won't need to make any sort of motivational talk this week, no one needs to be told to step it up," Hammond said.
"Donny will be coming to prove a point of their own, but Sunday is about us and putting ourselves into the position we want to be in during the play-offs."