Robinson is right man for Scotland - Andy Nicol
Last updated on .From the section Rugby Union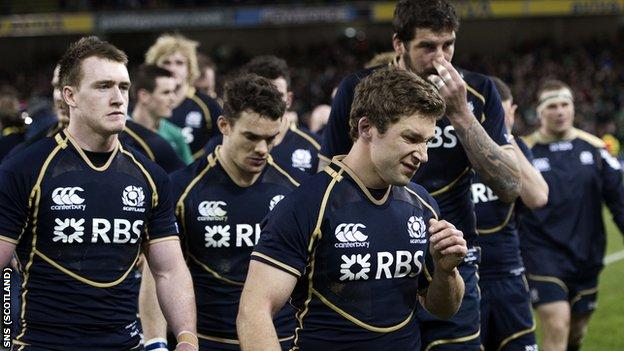 Former captain Andy Nicol is backing Scotland head coach Andy Robinson, despite a winless Six Nations run.
"I still think he's absolutely the right guy to lead Scotland for the next few years," Nicol told BBC Scotland.
"Scotland are a better side than they were two years ago, although the defeat to Ireland on Saturday was a real step back, I'm afraid.
"New players have come in and look comfortable but it's a results-driven business and Andy knows that."
Scotland travel to Italy on Saturday, with both sides pointless after four games.
"Andy said at the start of the championship: 'judge me on results' and it's not gone for him," added Nicol, who played 23 times for his country at scrum-half.
"We're playing against very good sides.
"The Six Nations is a brutal environment for Scotland and Italy. If you don't bring your A game, then it's a struggle.
"And now winning is all important against Italy."
As Scotland prepare for their trip to the Stadio Olimpico, they will be eager to forget the 32-14 loss in Dublin.
"It was a poor performance," explained Nicol.
"Plan A, whatever it was, didn't include missing tackles and giving away soft scores.
"If you give away three tries in the first half to a side like Ireland, you're going to struggle.
"I genuinely saw real positives in the defeats to Wales and France but that was a hard one to take because we didn't progress.
"We've not put together an 80 minute performance in the four championship games. There's been bits and pieces when they've done very well.
"As a supporter you'd be happy, as a coach you'd be happy, as a player you'd be happy; but it's not been consistent enough.
"I've seen a real drop-off, especially in the forwards in the last 10-15 minutes, when substitutions are made, and that's not allowed us any platform to get back into games.
"The components are there. It's just putting them all together."
Scotland beat Italy 21-8 in last year's tournament and won a World Cup warm-up at Murrayfield 23-12. However, the Scots lost 16-12 on their last visit to Rome in 2010.
"Whatever Italy get, they must have to work very hard to get it," said Nicol.
"Scotland have got to play with the same ambition, execution and accuracy as they did in patches against Wales and France.
"That needs good leadership and strong players making the right decisions at the right time.
"You can't go to Rome and try to contain them or be scared of playing with ambition.
"If we get into a rugby arm wrestle, I think Italy will win."
Former Scotland lock Doddie Weir also believes it will be a tough match in Rome.
"We have a strong front five and they will need to be on top of their game," he told BBC Scotland.
"Throughout the whole team there is great potential, it's just collectively, they have let themselves down on certain occasions.
"There has been a lot of good rugby played but, unfortunately, silly errors have let the other teams in.
"The overall balance is good. The only area that I think might have to be looked at is the centre partnership.
"Andy Robinson puts himself under pressure because he's driven to succeed. But there's also pressure from the media and supporters and the team really need a win."