Six Nations: Jeremy Guscott Q&A

By Jeremy Guscott
Rugby union analyst, BBC Sport
Last updated on .From the section Rugby Union
Among the topics the former England and Lions centre discusses this week are:
- Stuart Lancaster's chances of becoming full-time England boss after the thrilling win in France
- Which young Welshman is his player of the tournament so far
- Where Tom Croft rates in the world's blind-side flanker rankings
- The enforced retirement of former England and Wasps flanker Tom Rees at the age of 27
Jerry will answer as many of your questions as possible each week but not every question submitted can be used. This week's answers appear below.
What more has Stuart Lancaster got to do to get the England coaching job on a permanent basis? He has already done more in a few weeks than Martin Johnson did in years. Not Johnno's fault. He never should have been put in that position in the first place. What we need now is for Lancaster to be given the job, stop all the speculation and move on to beating Ireland on Saturday. Matt, England
After England's magnificent performance in Paris, why not give the job to Lancaster now? If they continue trawling for a marquee name they may lose all the momentum he has built up. David Pearce, England
Hi Dave and Matt, Stuart Lancaster has done a great job to date with the England team and results have been beyond most expectations. Sir Clive Woodward was given the job without any prior senior international experience and he eventually won a World Cup.
It would be great to have an English coach, not least because I read somewhere that no team has won the World Cup without a homegrown coach! I feel that the powers that be will go with an internationally experienced coach to cover themselves in being seen to make the right selection on paper.
Lancaster has to be involved somehow if he's not selected because of the work he has done getting this group of players to perform. Personally I have changed my mind and would go with Lancaster ahead of the likes of Nick Mallett because of what he's done in such a short space of time.
Dear Jerry, is it me or have referees got worse? I know it's a hard and thankless task but the standards seem to be slipping radically. Alain Rolland had a shocker in England's win over France. The difference between the Wesley Fofana and Charlie Sharples knock-on incidents was so small but the difference in punishment was huge. He also missed about three England players offside at the end in kickable range for France. And this is the same guy who sent off Warburton in the World Cup. Louis, England
I watched the game against France both live and on a recording. Do you not think the referee was biased against England again? France were frequently offside at the English rucks and were never penalised and, if the "deliberate" knock-ons were such, surely both should have received yellow cards. Similarly England were penalised four times at scrums when they were hammering the French pack. Christopher Coxhead, England
Hi Louis and Christopher, Rolland didn't produce his best performance at the weekend by any stretch of the imagination and George Clancy was very picky, but fair to both sides. I also feel that the yellow for Sharples was the wrong decision, given the punishment for Fofana.
You're right, the refs do have a thankless task sometimes but making errors in judgement doesn't help one sympathise with them. I don't think the decisions as a whole had a huge bearing on the result of the games but the French would probably disagree.
Going into the final weekend of the tournament, who is your player of the tournament? Jonathan Davies, Rob Kearney and Wesley Fofana have really caught my eye. Rory, Northern Ireland
Hi Rory, definitely not Italy fly-half Kris Burton. The poor chap had another shocker at the weekend. Wales blind-side Dan Lydiate has caught my eye, he's always on the move, carrying and tackling - he's an ever-present in the game.
With his performance against France England number six Tom Croft has pushed himself into the limelight but he has been crucial for England in the line-out in all their games.
It has to be said Fofana has been the only real stand-out for France, while second row Richie Gray had another storming performance for Scotland at the weekend. I would agree with Kearney and would also include Tommy Bowe for his try scoring, while the Italian back row has been disruptive throughout the Six Nations.
Lydiate is my pick so far but there's still one more round to go and he could be displaced.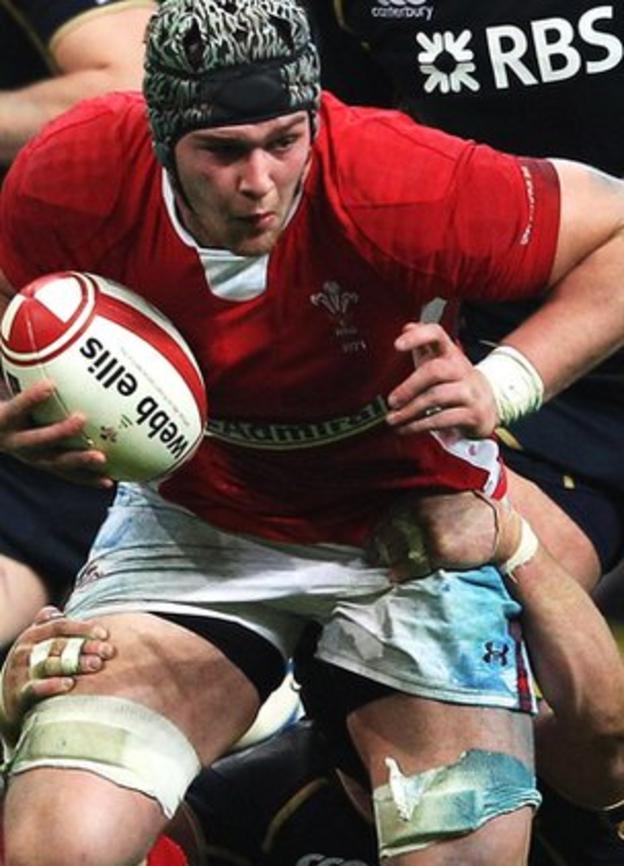 Dear Jeremy, what do you make of Austin Healy labelling Tom Croft the best number six in the world at the moment? I think there are a few Welsh, Irish, Kiwis etc who would strongly contest the claim and I am not sure Croft is even the best English blind-side, with Tom Wood coming back to fitness. Pridding, England, Nottingham
Hi Pridding, nothing Austin says surprises me any more! Croft does have attributes that other blind-sides just don't have, particularly his speed. In my opinion, that doesn't make him the best in the world, but he is one of the best when he plays as he did against France. England have been waiting for a performance by Croft like that for a couple of seasons. He needs to be more consistent to be acclaimed the best in the world.
It's strange how some things work out sometimes when you consider Wood might have been captain had he been fit and Croft might have not even been in the side. New Zealand's Jerome Kaino, sadly injured at the weekend, would be the benchmark as the best number six in the world at the moment.
Jerry, would you agree that this Six Nations is turning out to be the best in many years? Quality rugby, close matches and glorious tries of which Croft's must be the best. Sas Conradie, UK
Hi Sas, I agree, although for me the Six Nations is always a great competition. There are so many variables each season - who will win, will players play as well as expected etc?
This season hasn't been any different and not to sound too much of a homer, it's good to see England competing and playing better than in recent years. Croft's try was a great individual effort, while Jonathan Davies's try against Ireland when George North off-loaded to him was brilliant.
I'm not convinced by your fellow pundit, the more senior Jonathan Davies, continuously telling us how fantastic the Welsh team are or will be. What's your unbiased opinion? Paul Holland, England
Hi Paul, I think Jonathan was just reminding everyone on Sunday that, despite England's good performance and win, it's Wales that will be going for the Grand Slam on Saturday, and to be fair he has a point.
My opinion is that Wales do have a good team. They're young and have managed to keep the momentum going from the World Cup. It would be a great achievement for this young Welsh team to win a Grand Slam. However, they have to start beating the three southern hemisphere giants in order to truly believe they are capable of winning a World Cup. Do that in the summer and the whole of Wales can then join in with Jonathan.
Can you see Wales dominating the Six Nations for the next couple of years with all the youthful talent we have? James, Wales
Hi James, the Welsh team is capable of being favourites to win the Six Nations for the next few seasons given the players' ages and the competition for places.
Former England second row Paul Ackford stated in his Sunday Telegraph match report that the Welsh back-line has become predictable, and can be effectively stopped now. Do you agree and will France be able to stop the likes of George North, Alex Cuthbert et al from crossing the whitewash next weekend? Neil Startup, Wales
Hi Neil, despite the Welsh team being a tad predictable those juggernauts are still bloody difficult to stop. I believe they could bring a little more variation with some of their backs moves but, to be honest, if Wales get quick ball you don't have to be to inventive because of their pace and size.
It's got to be asked, do you think Scotland can avoid the Wooden Spoon and, if not, do you think Andy Robinson's job is on the line? Ollie, UK
Hi Ollie, I think Scotland will avoid the Wooden Spoon and that Robinson will have his job as long as he wants it. I would be very surprised to see Robinson resign or be sacked even if they lost to Italy on Saturday. Everything that I know about my former Bath team-mate says he will finish the job he started a couple of seasons ago.
Hi Jerry, on hearing the sad news about open-side flanker Tom Rees's early retirement, how much of a loss has he been to England over the years? Based on his early career I can't help but think he would compliment Croft and Morgan perfectly in the current England back-row. Phil, England
Hi Jeremy, great scarf this weekend, you never disappoint! With the sad forced retirement of Tom Rees this week, do you think England and Wasps have lost a player that could have been one the country's great back row forwards? Who do you see challenging England's current crop of back rows in the lead-up to the next World Cup? I'd like to see Callum Clarke given more of a go. Harry Fell, UK
Hi Phil and Harry, Rees's retirement is really sad news because we never got to see him playing at international level for long spells. It's too difficult to say how big an impact he would have had, had he been fit, but I'm sure he would have been right up there because we saw in the recent World Cup how important out and out sevens were.
Last season I broke my hip and was out of action until about a month ago. I used to be a big hitter but now am finding it hard to get my tackling back and feel I am missing a lot in games through not being confident enough to make them. What's the best way to get my big-hitting back? Jack, Minety, England
Hi Jack, it's all about confidence. You need to get back on the horse as it were. Keep practising your technique and it will all come rushing back. Good luck with it all and keep on enjoying your rugby.
Why not also follow Jerry on Twitter?