Wales in the Six Nations: Shane Williams responds

By Shane Williams
Wales' leading try-scorer and BBC pundit
Last updated on .From the section Rugby Union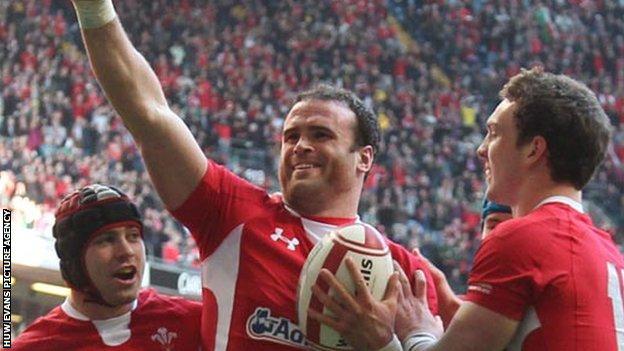 Wales' record try-scorer Shane Williams answers a selection of your questions with Wales just one game away from securing a third Grand Slam in the space of eight seasons.
Williams was there at the Millennium Stadium to witness Wales beating Italy 24-3 to seal their fourth straight win and set up a Grand Slam game against France.
This is the first Six Nations since the wing retired from international duties in December.
It's an hour before Wales v France kicks off and your phone rings. A flu bug has hit and one of the wingers and replacements have been struck down, Warren Gatland is asking whether you have your boots with you. What do you say? Mike Davies, West Sussex
I think Warren knows I will have my boots with me - I always have my boots handy. Wouldn't it be great to be involved on Saturday? Of course I would never let Warren down or the rest of Wales. I'd only have to go into my satchel and my boots and gum shield would be there ready. Simple question: of course I would love to play.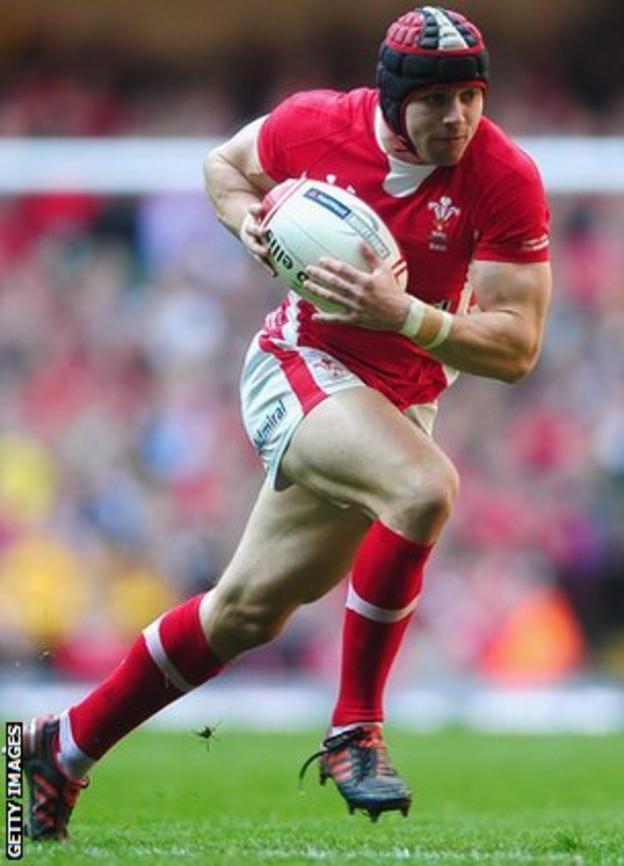 With Wales playing a Grand Slam game on Saturday do you regret not waiting to retire until after Six Nations? Steve Olsen (via Twitter)
My only regret is I haven't been part of this fantastic performance in the Six Nations. I don't regret the decision to retire. It was always going to be a 100% decision - if there were any doubts I would not have done it. I'm immensely proud of the way the guys have performed. I'm a mad Taff myself and I have enjoyed every single minute of it. I'm a lucky omen anyway - I have been at every game and they have won the four games. Perhaps if I had played they may not have won all four games.
Does it get frustrating as a player when the referee is inconsistent? Take Saturday's game for example, I think most people would agree that it was a ridiculous decision to yellow card Leigh Halfpenny when he didn't even take his eyes off the ball, yet the ball had clearly been knocked forward by one of the Italian payers just a couple of seconds earlier and had been ignored? How do you deal with decisions like this? Kathryn Eleri
It is very frustrating and you can get frustrated watching it of course. The referee on Saturday [George Clancy] blew up too many times for my liking and he was a little inconsistent and therefore it makes the game frustrating for the players and spectators. Sometimes you have got to keep a game flowing. It was a difficult decision to give the yellow card. Leigh was committed in the chase and there was no malice. How many times did we have to reset the scrum and stop play? It just spoilt the game for me. I think something has to be done with the consistency of referees. We are trying to speed up the game and get a better game for spectators to watch, but every two or three minutes a whistle is being blown. Referees do get criticised and it's a difficult job but you have to get your best referees officiating at international level.
Do you think as I do we should go for the throat against France and throw everything at them to release the pain of that semi-final and absolutely smash them with everything we have got or keep it tight and play percentage rugby with a close result either way? Dave Roberts, Glan Conwy
I think you have got to be clever and there is no point throwing everything at them. They [France] are a dangerous animal at the moment and they will have been very disappointed to lose at home to England. I think Wales have to play the way they have played so far in the Championship. It has worked so well - hammer teams for 40-50 minutes and fitness has told in the end. I wouldn't want to change too much. Of course I'd like to put 40 points on France after the World Cup semi-final but I think you have to keep to the game plan.
Do you think that with Leigh Halfpenny assuming the goal-kicking duties that James Hook might be a better option at No. 10 for the France match? He seems like a more creative and more experienced option for me to take on the French defence. Rhys Priestland hasn't looked convincing in this tournament. Tom, Southampton
Leigh has certainly cemented his place at full-back with his performances and his percentage rate in place-kicking and he is full of confidence. Perhaps Rhys didn't have his best games for Wales against England and Italy. He is stuttering a little bit in his performances. Is that because confidence is a little bit down because he has been relieved of his kicking duties? I don't think that change will be made at the weekend. Rhys seems to be pulling it out of the bag when he needs to - it was a nice straightening of the line on Saturday to set up Jamie Roberts' try. Hooky is one of the best players I have played against. He is very creative, but do you make a change like that in a Grand Slam game? It's a gutsy call.
I was wondering if you had any thoughts on Austin Healey's comments regarding Leigh Halfpenny on Twitter this weekend? [Healey tweeted: "should of [sic] been red for halfpenny"]. Considering that you met with the Leicester Lip early in your career, and went on to become IRB Player Of The Year for 2008 as well as many other accolades, do you think that Healey's words will spur the in-form Leigh on, or do the unsolicited barks not hold any importance? Gareth Davies
Knowing Mr Healey and how he works I'm sure he is looking for a reaction there. He is a very knowledgeable rugby player and pundit and I think if he was honest with himself there is no way that was a red card. I think he is trying to put fuel on the fire and get a reaction. It's probably worked. It was never a red card and it was a bit harsh to be a yellow. If I know Austin he is probably giggling reading these comments. Austin Healey is Austin Healey. It wasn't a red card and anyone who knows anything about rugby would realise that.
Which Welsh player has impressed you the most this year? Do you think they will make an impact in the up-coming fixture against France? Christopher Jones
It's a tough one. There are a lot of players who have impressed me - George North has played very well and Alex Cuthbert has done well in a couple of games, but Leigh Halfpenny has come the furthest since the World Cup. He was disappointed to miss that kick in the semi-final and it really took it out of Leigh to be honest, and it could have been a very difficult place for him. Since then he has matured as a player and a person and he has come back and played his best rugby in this Six Nations. Yes, he was yellow-carded against Italy but he has put his body on the line a couple of times during the Championship.
Do you think Wales will have a double worry this weekend due to the Grand Slam looming and also the fact that there are IRB world rankings at stake. Wales will want to rectify their previous World Cup outcome, and by achieving a fourth IRB world ranking spot it would take a weight off their shoulders. Do you think this will add an extra edge to Saturday's showdown? Carl Randell
To be honest it's not something that as a player I worried about. I couldn't even tell you what ranking Wales were for the majority of my career. The guys don't panic about that - they have got enough on their plate worrying about this Grand Slam. I have never heard about the guys moaning or complaining about IRB rankings or worrying about Wales' position.
How does this squad compare to the Grand Slam-winning squads of 2005 and 2008? There are younger players in the 2012 squad but are they any better? BBC Sport
The side we have got at the moment isn't the finished article. They can play much better. They are a younger squad but they are certainly more fearless than the 2008 squad. In 2005 we almost stumbled across that Grand Slam. In 2008 we believed we could win it and we were almost the finished article. But the squad we have got at the moment has the potential to be one of the best Welsh squads ever. They are not quite there yet but they are more than capable of winning the Grand Slam and going on to win another Championship.