Six Nations: Leigh Halfpenny hails Wilkinson influence
Last updated on .From the section Rugby Union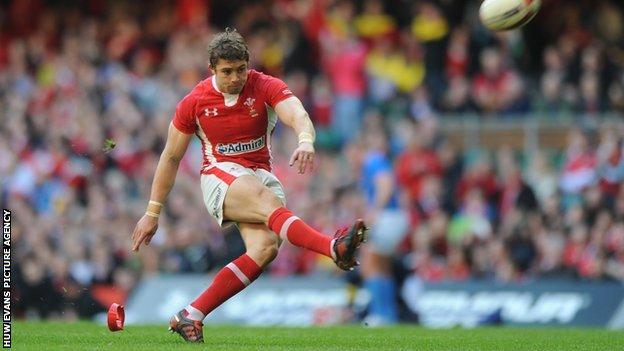 Leigh Halfpenny hopes to emulate English goal-kicking hero Jonny Wilkinson when Wales target a Grand Slam against France on Saturday.
But he has scored 55 points in the 2012 Six Nations, and kicked a dramatic last-gasp penalty against Ireland.
"As a kicker the guy I always looked up to was Jonny Wilkinson," said 23-year-old Halfpenny.
"He was the best and the most professional. I bought his books and DVDs. The DVDs used to show his kicking technique and the books talked about how he would train on Christmas Day and not drink alcohol.
"There were parts of his kicking routine that I copied from him and some of it I have kept.
"I can remember when Cardiff Blues played Toulon in the Amlin Challenge Cup final [in 2010] and we were both warming up near each other, and I was wondering if he was looking at my technique thinking 'that's my routine'."
Wales have beaten Ireland,Scotland,England and Italy and if Halfpenny is on the winning side at the Millennium Stadium on Saturday, it will be in stark contrast to events in October's World Cup semi-final in Auckland.
Wales played most of the game a man short after skipper Sam Warburton was sent off for a tip tackle on Vincent Clerc and lost 9-8.
Halfpenny's late penalty effort fell narrowly short, haunting the Cardiff Blue for many nights that followed.
He said: "There were not many nights when that kick did not go through my head.
"I would wonder if there was anything I could have done to get the ball over, I went through it every single day, but that has gone now.
"From that moment I said I would take my next chance and I did it against Ireland and I am just focusing on this weekend.
"Having the kick against Ireland was the best moment in my career because of the feeling I had after the kick against France.
"I have drawn a line through it, the kick against Ireland meant I could put it behind me and I want to keep doing the same as I have done through the competition, taking every kick and game as it comes.
"I have moved on from that. The practice I have done since that moment means going into this game I am pleased with where I am at."