Six Nations: England 'bad losers' says Ireland's Stephen Ferris
Last updated on .From the section Rugby Union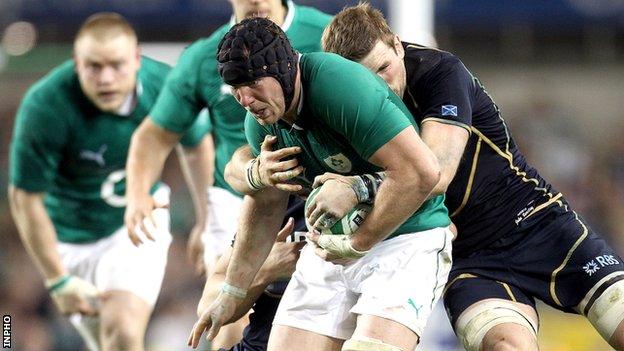 Ireland flanker Stephen Ferris has accused England of being "bad losers" ahead of Saturday's Six Nations clash at Twickenham.
The Irish have won seven of the previous eight meetings in the Six Nations but Ferris insists that the England game remains the prize scalp.
"They're a good side and are full of winners, but when they lose they don't like it," said Ferris.
"They're bad losers and hopefully they'll be bad losers on Saturday."
Ferris believes that a series of defeats against the English during his youth international days has led to his huge motivation for the fixture.
"We took so many beatings from England at under-age level.
"Any time we played Under-18s, -19s or -20s we always received a thumping. I never beat them.
"They come with bit of a tag about being arrogant and if you asked any team they'd probably say the same thing."
Ferris stresses that he is on good terms with those England players he met while on the 2009 Lions tour to South Africa and admires what they have achieved in this Six Nations under interim head coach Stuart Lancaster.
Under Lancaster's guidance, England have beaten France in Paris, narrowly lost to Grand Slam-chasing Wales and retain an outside chance of winning the title.
"I went on the Lions tour and got to know a few of England's players," said Ferris.
"I got on so well with them and had an awful lot of respect for them. I became good friends with some of them.
"England are a good side at the moment and are very hard to break down.
"Saturday will be two good teams going against each other, but we're also looking forward to getting that result."