Six Nations: Mike Ruddock predicts Wales Grand Slam
Last updated on .From the section Rugby Union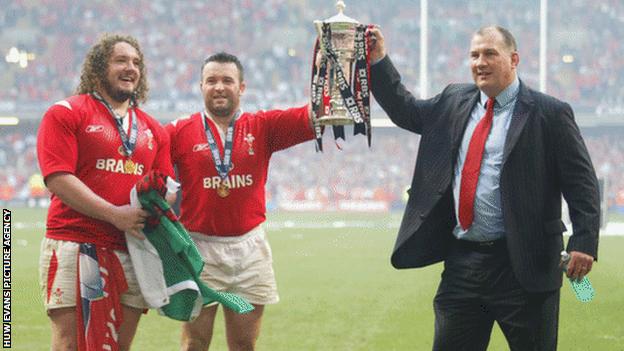 Mike Ruddock expects Wales to clinch a third Grand Slam in eight years against a France side that is "all at sea".
Ruddock, Wales' Grand Slam coach of 2005, predicts Warren Gatland's class of 2012 will be too strong for the beaten 2011 World Cup finalists.
"I am expecting Wales to win because they are more than capable of being the best team in the tournament," said Ruddock, the Ireland Under-20's coach.
"I don't think this is a particularly good French team."
And Ruddock's Grand Slam-winning captain Michael Owen believes heavy favourites Wales are desperate for revenge over their World Cup conquerers.
Wales will host Les Bleus at the Millennium Stadium on Saturday in a re-run of the controversial semi-final at Eden Park in New Zealand.
Gatland's side lost 9-8 after captain Sam Warburton was sent off for a 'tip tackle' on French wing Vincent Clerc.
"Everyone is playing it down but it will be in the back of the Welsh players' minds," Owen told BBC Breakfast.
"Wales were the form team going into that game in the World Cup and they lost in such horrible circumstances.
"They will be looking to get the right result on Saturday."
Ruddock, who saw his Wales side end a 27-year wait for a Grand Slam in 2005, admits he has not been impressed by a France side still smarting after a draw with Ireland and a defeat to England in Paris last weekend.
"I think they have got some of their own troubles in the way they are playing at the moment," said Ruddock.
"Even with some divisions in the camp last year, they got to a world cup final, but this season they appear all at sea. I really don't see France getting anywhere near Wales on the day."
Owen, who won 41 international caps, added: "I can't see Wales losing it. They've worked so hard to get to this point and I think they will be too good for France.
"The motivation for France may have slightly gone out of it because they are not going for the Grand Slam or the Championship having lost to England.
"But the level of motivation for Wales is huge and they've been getting better and better."
Ruddock, whose Irish Under-20's side will clinch their own Grand Slam if they beat England on Friday, hailed the way Gatland's Wales had kicked on from their impressive campaign at the 2011 World Cup in New Zealand.
Gatland, who masterminded his first Grand Slam with Wales in 2008, is on the brink of becoming a double Grand Slam coach if his side can claim victory over France in Cardiff.
Only John Dawes, who secured clean sweeps in 1976 and 1978, can currently boast to have claimed two Grand Slams for Wales.
"Everyone has been very impressed with Wales," said Ruddock.
"All the youngsters who came through during the World Cup have kicked on and the other thing that has impressed people is the physical size of the Welsh backs.
"That is a talking point over here in Ireland and people have been very impressed with what Warren has down with his squad.
"Wales started the Six Nations without Alun Wyn Jones, Matthew Rees and Gethin Jenkins, who weren't fit, and Shane Williams had retired and there was some work to do.
"But the guys who came in responded superbly, having said that the talk in Ireland is what if? What if Stephen Ferris' tackle hadn't been judged to have been illegal? Would Ireland be kicking on for a chance at the championship?
"Sometimes, you have to remember it is small margins but what has happened with Wales since then has been spectacular."