Gloucester capture Nottingham's Sione Kalamafoni for next season
Last updated on .From the section Rugby Union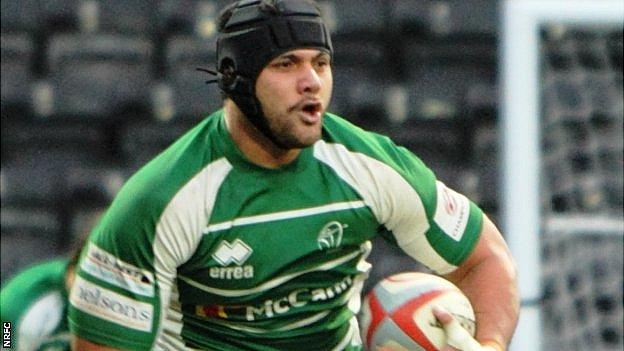 Premiership side Gloucester have signed Tonga and Nottingham Rugby back-row forward Sione Kalamafoni for next season's campaign.
Gloucester coach Bryan Redpath said: "Sione's proven himself to be a capable performer at international level.
"We think he's got what it takes to make an impression in the Premiership."
Kalamafoni added: "[The decision to move] was hard and very easy at the same time.
"I'm sad to leave the first professional club that I joined, and Nottingham has been very good helping me on and off the pitch.
"And then it is very easy wanting to go to a Premiership club like Gloucester."
Nottingham director of rugby Glenn Delaney said: "I hope he makes as big an impact on the Premiership as he has made on the Championship.
"He has just lapped up everything that has been thrown at him and he will learn even more in the coming years when the pressure to do so intensify, but he is capable of doing it."
Kalamafoni could have moved to a Premiership side last year but Delaney is convinced he made the correct decision to stay at Meadow Lane.
Delaney said: "We had the discussions last year and we all agreed that it would be better for him, in terms of his rugby, to spend another year in the Championship.
"And I think that has proved right, because he is a much better player than he was at this time last year and he has been contributing fantastically well."