Launceston skipper Tom Rawlings hails departing Tony Roques
Last updated on .From the section Rugby Union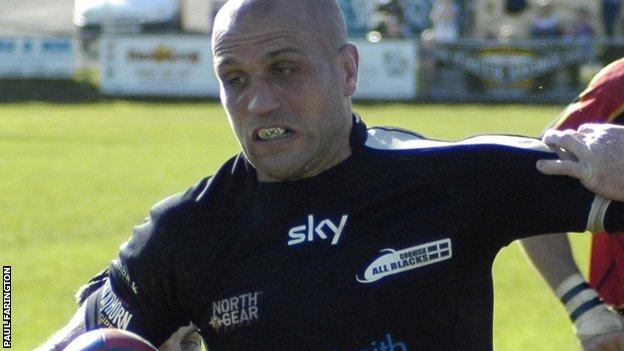 Launceston skipper Tom Rawlings says outgoing boss Tony Roques is the best coach he has worked under.
Roques is to leave Polson Bridge at the end of the season after two years in charge of the National Two South club.
"He's probably the best coach I've ever worked under just for what he puts in and the amount of enthusiasm, time and effort that he puts in," he said.
"It's massively disappointing news for us, I've got a lot of respect for him, along with all the other players."
He added to BBC Radio Cornwall: "He's done a lot of good for the club, instilled a lot of professionalism within our set-up and he's going to be greatly missed."
Roques's time at the helm of Launceston has been dogged by off-field problems.
The club were given a 20-point deduction at the start of last season for entering liquidation, and the club were relegated from National One as a result.
This season Launceston are mid-table in National Two South and the squad have once again been forced to take a pay cut.
"Even though we haven't done very well, it was by no means his fault at all," Rawlings said.
"He put everything into the club and he tried to keep us on track and keep us motivated once we were down.
"He sets the standard for everyone else which is nice, you know what to expect from him and it helps the boys when they pull on the jersey."
And Roques's departure will be motivation to try and ensure that the side ends the season well.
"We want to send him out on a high and we want to end this season as best we can to send him off with a big bang," Rawlings said.
"We've got the top of the league team, Richmond, coming down in two weeks time and we want to turn them over at Polson Bridge and what better way to finish the season than to beat team like that."