Six Nations: England boss Lancaster warns of Irish test
Last updated on .From the section Rugby Union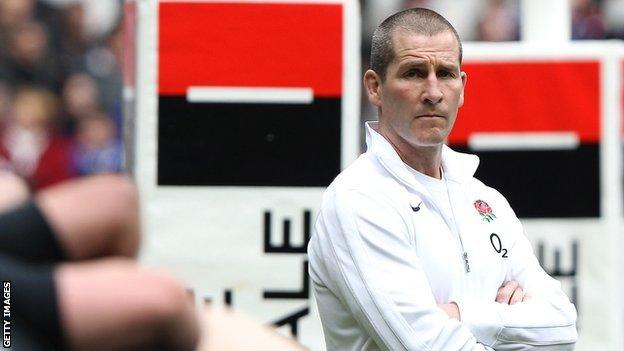 Stuart Lancaster will end his audition for the full-time England job against an Ireland side that is "very unlucky" not to be hunting a Grand Slam.
"The Wales game they lost in the last few minutes, the France game they were in a position to win," he said.
"It's a real benchmark to see how we get on against them [on Saturday]."
Lancaster also believes the result will have little bearing on the full-time role, insisting: "I think there's a lot more to it than one game to be honest."
England will face Ireland at Twickenham with a slim chance of retaining their Six Nations title, should Grand Slam-chasing Wales lose heavily to France earlier on Saturday, but Lancaster says the visiting Irish are not to be underestimated.
"[Ireland boss] Declan Kidney is one of the few coaches I've coached against before, in the Churchill Cup, and we got turned over there," said Lancaster.
"They've got a very strong mix of pride in the shirt, quality international players and good coaching. Put those three together and it makes them a very competitive side."
England go into the game on a high after a positive Six Nations campaign which has restored the smile to the face of English rugby after a disappointing World Cup campaign.
Lancaster, who was initially appointed as interim coach but has applied for the job full time, is credited will playing a major role in the revival of England's fortunes since taking charge.
"I think we've come an awful long way," he said.
"The first day at Leeds [at England's pre-Six Nations training camp], effectively I had three groups of players.
"A group of players who went to the World Cup, a group of players who'd never been involved with England before and a group who'd been there but only got one or two caps - we had to merge that group.
"To get a sense of 'we're all in it together' and then to go on the journey we've been on in the Six Nations has been fantastic."
Asked if it was important to save the best for last, Lancaster replied: "The best performance? Absolutely, it's important to finish strong.
"We've come a long way but I still think there's an awful long way to go as well."