Tributes pour in for 'icon' Mervyn Davies who has died aged 65
Last updated on .From the section Rugby Union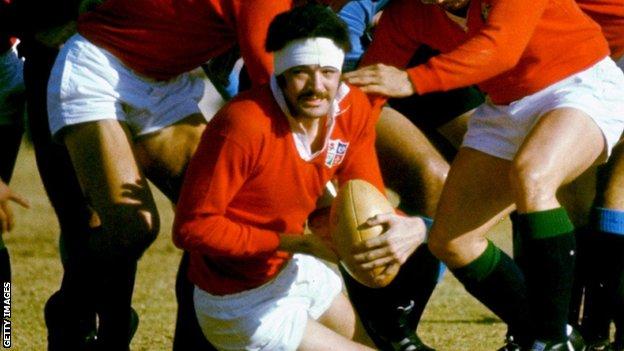 Tributes have poured in for Wales great Mervyn Davies who has died aged 65 after a battle with cancer.
He led Wales to the 1976 Five Nations Grand Slam, during 38 consecutive caps, and went on two victorious British and Irish Lions tours in 1971 and 1974.
Former Wales captain Phil Bennett believed Davies was an "iconic" figure in Welsh rugby.
"The word great and legend are used so frequently these days. This man was iconic," said Bennett.
"He was one of the greatest players ever, ever to wear the Welsh jersey and the Lions jersey.
"To go to New Zealand in '71 with the Lions and to become victorious, beating New Zealand in their own back yard.
"Three years later we were out in South Africa and we beat the Springboks in their own back yard.
"He was so great on those two tours. He wouldn't take a step back - he was inspirational.
"In 1976 we won the Grand Slam against France. He was captain, he was inspiring us to victory. Just after half-time he suffered a very bad calf injury and had Mervyn left that field that afternoon we would have lost.
"He limped through that second half - put his body on the line and we won the Grand Slam."
Former Wales coach Clive Rowlands gave Davies his first cap, and said his talent was evident from the start: "Although he played from the head, he played from the heart and he had special skills - he was a special captain."
Rowlands said Davies' achievements with the Lions and Wales, finishing as 1976 Grand Slam captain "said something huge about him... what more could you achieve as player? It never went to his head, he was always Merve the Swerve to everyone and a lovely man, I miss him terribly."
Another former Wales skipper Ieuan Evans said it was very sad day for Welsh and world rugby.
"[I'm] saddened by [the loss of] an iconic figure - 'Merv the Swerve'," said Evans.
"A sad loss of someone who was held in such esteem by supporters all around Wales and people who loved the game, but also by people all round the globe.
"Everyone knew him as the 'Swerve'. He was totally different from what was around at the time.
"In '71 you watch images of that tour to go to New Zealand and win a Test series - he was central to that."
An emotional former Wales number eight Scott Quinnell said: "He was my godfather and a great man.
"He was a great man and my love goes out to his family at this desperate time. Welsh rugby will be mourning and it's a sad time."
Hundreds of tributes have been posted on Twitter including Wales number eight Ryan Jones, who holds the record for captaining Wales the most times. He said: "Sad to hear the passing of Mervyn 'merve the swerve' Davies. Legend! All our thoughts are with his family."
Welsh Rugby Union chairman David Pickering said: "Mervyn Davies was a man who epitomised the values of Welsh rugby and will be sadly missed by everyone who knew him and all who knew of him.
"He was a giant of the game both on and off the field for London Welsh, Swansea, Wales, the Barbarians and the British and Irish Lions. He bore his illness with courage and his memory will undoubtedly live on within our game for all time."
WRU group chief executive, Roger Lewis added: "We have lost a true great of our game with the sad death of Mervyn Davies. He was a giant in all senses.
"His loss will be felt across the rugby world because of the huge impact he had as an icon of the game. He stood out in one of our great Welsh teams but remained a modest and gentle man off the field of play throughout his life."