Sergio Parisse eyes win over Scots for coach Jacques Brunel
Last updated on .From the section Rugby Union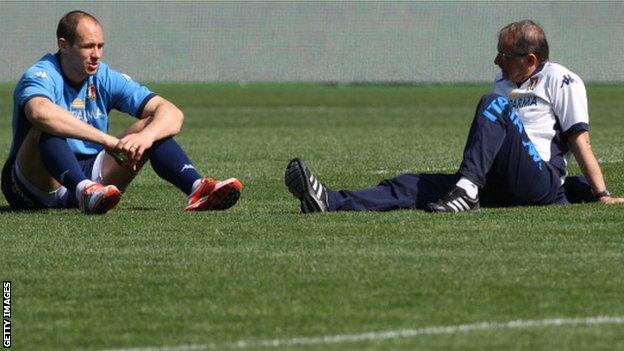 Italy captain Sergio Parisse wants to reward coach Jacques Brunel and the Rome faithful by consigning Scotland to the Six Nations Wooden Spoon.
The Azzurri, like the Scots, are without a win in Brunel's first tournament in charge.
"It's very important for our group and for Jacques because it's not easy to start with a Six Nations tournament like this," said Parisse.
"A win could help him continue his work with more serenity."
The Italians, again like the Scots, believe they are unfortunate to reach this stage without a victory.
Brunel, who took over from Nick Mallett, came close to leading his team to a victory over England in their only previous home match in the tournament, losing 19-15 in no small part to Charlie Hodgson's charge-down try.
Now the Italians are keen to finish with a flourish against an opposition they beat at home in 2008 and 2010.
"Against England, we were very bitter so tomorrow we have the possibility to play Scotland," number eight Parisse said.
"It's a fundamental match. There's not just the desire to play a great match, but there's also the pressure to get a positive result.
"The reality is that both Scotland and ourselves have played good matches in this Six Nations.
"We've both been close to getting good results. But, at the end, we find ourselves in this last match playing to avoid last place."
Italy have only once recorded more than one win in the Six Nations since joining the tournament in 2000 and Parisse is determined the record is improved upon in future.
"It's very important for us to be more consistent as a team," he added.
"I think we can match anyone in the Six Nations, but we have to be consistent.
"We need to be able to put in good performances week in week out."