England Women seal Grand Slam with win over Ireland
Last updated on .From the section Rugby Union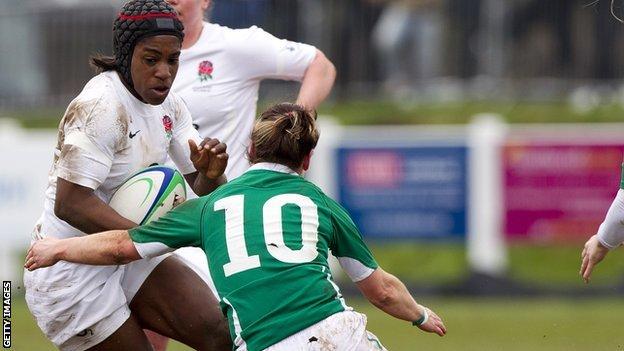 England Women secured a seventh successive Six Nations title and a sixth Grand Slam in seven years as they saw off a battling Ireland 23-6.
The visitors held England at the interval, Katy McLean and Niamh Briggs notching two penalties apiece.
But Emily Scarratt made it 9-6 after the break and skipper McLean crossed mid-way through the half, before an Amy Turner push-over try sealed the win.
It meant England defended their title without conceding a try.
The first championship side to achieve that feat, England also broke the record for successive titles and continue to dominate the game having secured a double victory over world champions New Zealand in the autumn.
Head coach Gary Street praised the performance of his own players after the victory at Esher, but also the quality of the Irish challenge.
"We expected this championship to be our toughest and it has been, and that can only be good for women's rugby," he said. "We need tough games and we want spectators to see a real contest.
"We knew Ireland would hold us as they had a real chance of winning the Six Nations and the first 40 minutes was always going to be a real slog fest.
"We had a very strong game plan and today we didn't show our hand early on, we stayed patient, which was key, as we knew that our bench would make a real impression and our fitness would tell."
TEAM LINE UPS
England Women: 15 Emily Scarratt (Lichfield), 14 Katherine Merchant (Worcester), 13 Rachael Burford (Richmond), 12 Kimberley Oliver (Bristol), 11 Kay Wilson (Bristol), 10 Katy Mclean (C) (Darlington Mowden Park Sharks), 9 Natasha Hunt (Lichfield), 1 Laura Keates (Worcester), 2 Victoria Fleetwood (Lichfield), 3 Sophie Hemming (Bristol), 4 Rowena Burnfield (Richmond), 5 Tamara Taylor (Darlington Mowden Park Sharks), 6 Marlie Packer (Bristol), 7 Margaret Alphonsi (VC) (Saracens), 8 Sarah Hunter (Lichfield). Replacements: 16 Amy Turner (Richmond), 17 Rochelle Clark (Worcester), 18 Rebecca Essex (Richmond), 19 Hannah Gallagher (Saracens), 20 La Toya Mason (Wasps), 21 Ceri Large (Worcester), 22 Michaela Staniford (Wasps).
Replacements: Gallagher for Alphonsi (29), Staniford for Merchant, Mason for Oliver (both 44), Essex for Packer, Clark for Keates (both 60), Turner for Fleetwood (69), Large for Burford (73).
Ireland Women: 15 Ashleigh Baxter (Belfast Harlequins/Ulster), 14 Niamh Kavanagh (UL Bohemians/Munster), 13 Niamh Briggs (UL Bohemians/Munster), 12 Grace Davitt (Cooke/Ulster), 11 Alison Miller (Portlaoise/Highfield/Connacht), 10 Lynne Cantwell (Exile), 9 Amy Davis (Blackrock/Leinster), 1 Fiona Coghlan (UL Bohemians/Leinster) (Capt), 2 Gillian Bourke (UL Bohemians/Munster), 3 Ailis Egan (Old Belvedere/Leinster), 4 Sophie Spence (Exile), 5 Marie Louise Reilly (Old Belvedere/Leinster), 6 Laura Guest (Highfield/Munster), 7 Claire Molloy (Bristol/Connacht), 8 Joy Neville (UL Bohemians/Munster). Replacements: 16 Paula Fitzpatrick (St. Mary's College/Leinster), 17 Ruth O'Reilly (Galwegians/Connacht), 18 Siobhan Fleming (Tralee/Munster), 19 Heather O'Brien (Highfield/Munster), 20 Larissa Muldoon (Exile/UWIC/Ulster), 21 Shannon Houston (Blackrock College/Leinster), 22 Jennifer Murphy (Exile)
Referee: Nicky Inwood (NZ)
Assistant referees: Steve Harland & Simon Adams