England's Dylan Hartley expected to receive biting hearing result
Last updated on .From the section Rugby Union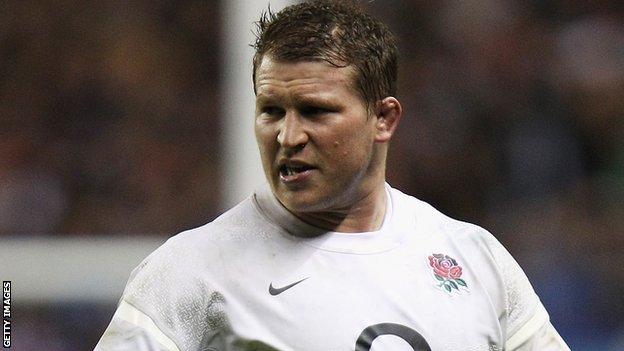 England's Dylan Hartley is expected to receive the result of a disciplinary hearing on Tuesday into an alleged biting incident in the Six Nations.
Ireland flanker Stephen Ferris drew attention to it during England's 30-9 victory, but the referee Nigel Owens did not see anything himself.
The lowest suspension for biting is 12 weeks, with a maximum sanction of four years.
An independent Six Nations disciplinary committee is hearing the hooker's case.
He was cited under the law regarding "acts contrary to good sportsmanship".
It is the second time Hartley has faced a lengthy suspension from the game. He received a six-month ban for eye gouging while playing for Northampton against Wasps in 2007.
The Rugby Football Union issued a brief statement following Hartley's citing, saying: "The England management have been formally notified about the citing of Dylan Hartley and will not be making any comment until the resolution of the disciplinary hearing."
Northampton forward Hartley has been banned from playing pending the outcome of the disciplinary hearing.
Ferris was heard accusing an England player of biting during the home side's 30-9 win at Twickenham. Biting is a red card offence but, as neither referee Nigel Owens nor his touch judges saw the alleged incident, no action was taken.
Owens, in a conversation recorded on his microphone, told England captain Chris Robshaw and Ireland skipper Rory Best in the 28th minute of the match: "I have an accusation of biting, a clear mark on the finger.
"I did not see something. If I do it will be dealt with severely, which would be a red card. If it is seen it will be dealt with."
Owens added: "Have a word. Nothing like that takes place in this game. I can only deal with what I see."
As the packs then set up for a scrum, Owens added: "This game is difficult enough without stuff like that, is that clear?"
The referee then approached Ferris, while the back-row forward was receiving treatment from Ireland's physiotherapist, and said: "I have done all I can. It has been noted. If I don't see it, I can't do anything about it."