Jersey Rugby Club plan changes to St Peter
Last updated on .From the section Rugby Union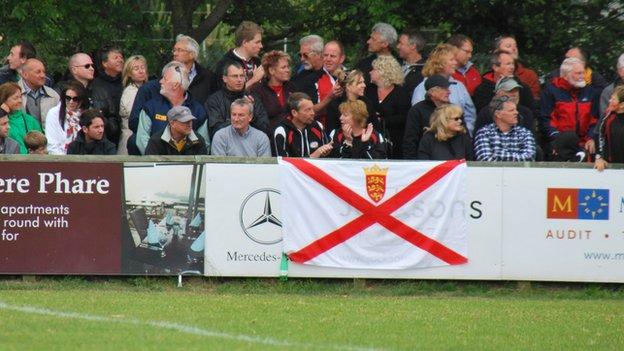 The clubhouse at Jersey's St Peter ground could be extended to include a gym and player accommodation, under new plans.
A spectator terrace at La Rue des Landes end could also be built.
The National One leaders are closing in on a fourth promotion in five years on a dramatic rise through the English rugby pyramid.
They have averaged crowds of around 2,000 this season, well above the other teams in the division.
For big matches the club have attracted gates well in excess of 3,500.
The raft of proposed changes have to go before the island's planning authorities.
The extension would house offices, a kitchen area, bar, gym, a new caretaker's flat and the temporary accommodation for players when they first come to the island.
The promotion-chasing club also want to turn a neighbouring field into an overspill car park for match days.
"We have accommodated big crowds in previous seasons for one-off matches such as play-offs or the Siam Cup, but now we are seeing crowds approaching that level for every home game," said Jersey chairman Bill Dempsey.
"The club wants all spectators, whether they are local or visitors to the island, to have safe and comfortable access to the ground and facilities, hence we have some significant improvements on the drawing board, subject to planning consent."
But Dempsey emphasised that any plans would have to be approved by the club's members before they could go ahead.
"We will be seeking backing for these plans from our members at a general meeting, and we will also need to make sure that we have the necessary funding in place for the projects, particularly the plans for the clubhouse."