Tony Hanks leaves Sale following heavy defeat to Saracens
Last updated on .From the section Rugby Union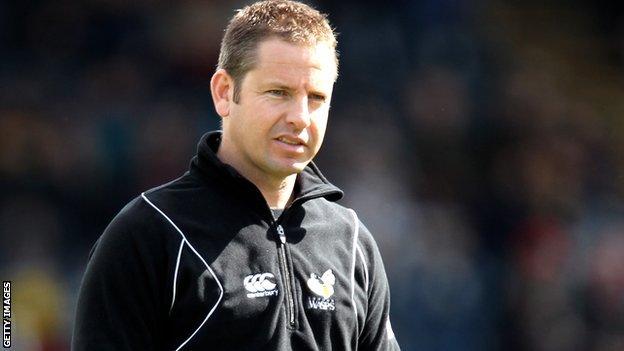 Sale Sharks's first-team coach Tony Hanks has left the club following Friday's 45-9 home defeat by Saracens.
Hanks joined the club in July 2011 with responsibility for the team's attack, game plan and defence.
But chief executive Steve Diamond promised changes following the loss.
He said: "It has been a season of great change at Sale Sharks and I would like to thank Tony for his help. The owners, directors, players and supporters all wish Tony well in the future."
Sale, who have announced the signing of England fly-half Danny Cipriani for next season, have lost 10 of their 18 games in the Premiership.
Hanks failed to appear at the news conference after the Saracens defeat, with Diamond instead turning up.
At the time, Diamond said: "Defensively we were a shambles. Admittedly, they are a good side and were very patient. They worked on our errors.
"Fair play to them but we've got to look at ourselves really.
"The crowds have come over the last three or four home games and nobody likes people leaving early. There will be changes afoot.
"We're shedding 24 to 25 points a game and quite a lot of games we've been scoring that or thereabouts, but this really was an awakening for us."
The heavy defeat to Saracens was particularly disappointing for Sale as the game attracted a season-high home crowd of 9,476 to Edgeley Park.