Brent Wilson seeks Nottingham response at Bristol
Last updated on .From the section Rugby Union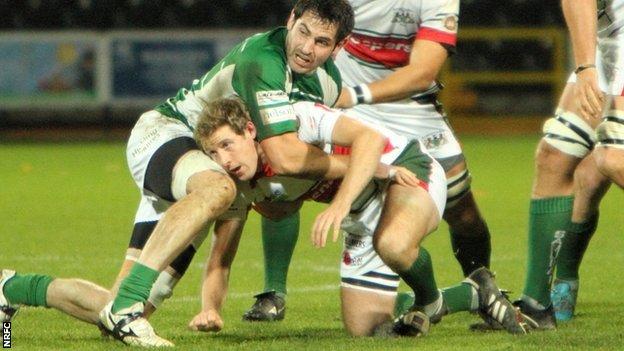 Flanker Brent Wilson says Nottingham must end their nearly-men reputation.
Nottingham face Bristol again on Friday and Sunday's loss means they face a tough task to finish in the top two in Pool A and reach the quarter-finals.
"We're not at a point where we can nearly do something, we have to go to Bristol and leave with four points at least," Wilson said.
The hosts did manage to secure a losing bonus point, to keep alive their hopes of progressing to the semi-finals.
But London Welsh are seven points clear of Nottingham in third with six points, while Bristol head the group on 14 points.
Wilson, who took over captaincy against Bristol with regular skipper Craig Hammond coming off the bench, said the club must remain positive.
"We are not going to Bristol thinking about what needs to be done to move up the group ladder," the New Zealander said.
"Our only concern is staying switched on and playing the right rugby at the right times against them, and not play the sort of game that sees us gift them an 18-0 first-half lead.
"We are not finished yet. There is a lot of rugby still to play and a lot can change in the next three games.
"We can't dwell on this because it's such a quick turn-around," Wilson said.
"The way we performed proved we have done our homework on them, we just got punished severely for every error we made.
"We are almost there, and right now that feels like that has been the story of our season."