Jeremy Guscott's Q&A

By Jeremy Guscott
Rugby union analyst, BBC Sport
Last updated on .From the section Rugby Union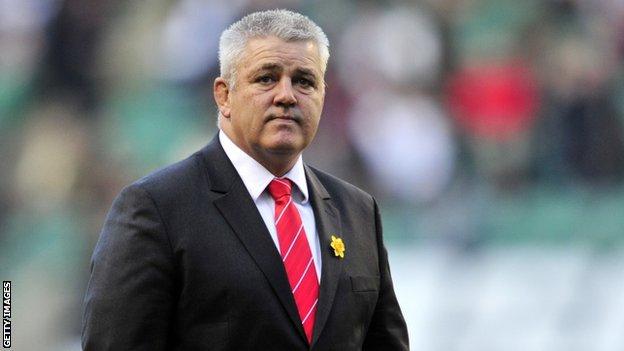 Among the topics the former England and Lions centre discusses this week are:
- The prospect of Warren Gatland being made Lions head coach
- Sale's decision to part company with first-team coach Tony Hanks
- Whether there is too much international rugby
- The benefits of Sevens rugby for the 15-a-side game
Jerry will answer as many of your questions as possible each week but not every question submitted can be used. This week's answers appear below.
Warren Gatland has been offered the chance to be the next Lions coach. What is your opinion on the appointment of a coach who has been so dismissive and negative towards England and Ireland being appointed as a coach responsible for selecting a team that includes their players? Lewis, England
Hi Lewis, on the basis that Ian McGeechan didn't want to coach the Lions again I believe Gatland deserves a crack at it after Wales won their second Grand Slam under his coaching.
He went on the last Lions tour and would have understood what it is all about. It would help if there was another senior member of the coaching/management team who has represented the Lions to add the special ingredients that McGeechan knows so much about. Gatland is a big fan of Graham Rowntree so he would be the forwards coach, while Shaun Edwards looks nailed on as defence coach.
As a British and Irish Lions legend yourself, who do you think would be most successful as the captain of the 2013 touring squad? In my opinion it should be Sam Warburton. James Herod, Wales
Hi James, I would think Sam Warburton would be favourite right now but there's a way to go yet. Brian O'Driscoll is on his way back and if he could show some good form I'm sure he would love to do the job. What will probably rule O'Driscoll or any other back out is that the Lions captains are generally forwards. Another candidate could be Paul O'Connell but he could be struggling to get a place. Warburton is out there on his own as an open-side so would be a guarantee to get in the team and that makes him favourite - and right now I would pick him.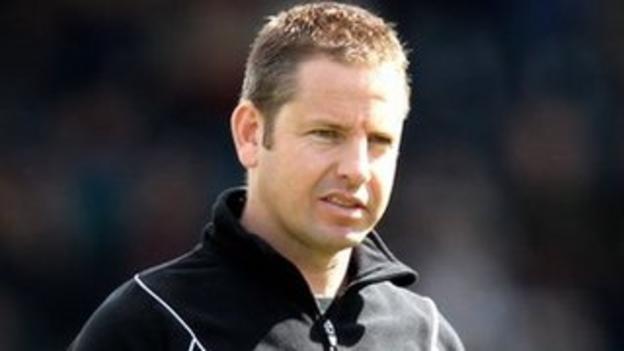 Hi Jerry, do you feel there are too many international Test matches? For example Wales have just played five intense Six Nations matches, will play the Baa-Baas in June, a three-Test Australia tour, a packed autumn international series, Six Nations 2013 and then the Lions tour. Do you believe this has a negative effect on the performance of players for their clubs? Jonathan Fry, Wales
Hi Jonathan, I don't think they play too much, but it's unfortunate that the international players aren't seen playing for their clubs or regions/provinces more often. There is a solution and that is a global season which would mean all players would be available for their clubs/provinces/regions and then they could go off and play the internationals. The main reason for the internationals is to raise much-needed funds for the unions to pump back into the community game.
Is Union becoming the new football? Sale sacking Tony Hanks smacks of it. Yes, managers and coaches need to take responsibility for a team's results but the players on the field are the ones with ball in hand and they need to bear some of the responsibility as well. Look at Tigers' poor start to the season, should they have sacked Richard Cockerill? Is Sir Ian McGeechan a bad choice of rugby director at Bath as they are not doing well? Jake Ward, England
Hi Jake, I don't think rugby has reached the impatience of football just yet, in fact there's a long way to go and I don't think rugby will ever get that bad because there's not as much money involved. The buck stops at the person who picks the team, he has to get selection right and must live up to the expectations of the chairman and supporters. Richard Cockerill had around 10 players missing throughout the Rugby World Cup and now they are all back look where they are. The Tigers might have been a tad worried had the losing streak continued when all their internationals were back. which normally means something was seriously wrong with what he was doing or someone wasn't happy with what he was doing.
I have just been in Hong Kong for the Sevens, which was won by Fiji in a great final against NZ. What do you think of this exciting short form version of the game? Does it have any relevance to the 15-man game or is all just a bit of fun? Jonny C, England
Hi Jonny, I love Sevens and think it's a great advert for the 15-man game. I can't wait to see it in the 2016 Olympics. In the least few years Sevens has moved up several gears in terms of intensity and physicality. The skills, speed and expression of the players is sensational and the carnival atmosphere at the stadiums is tremendous.
Jerry, what do you think of the IRB rankings system that, after a season where Wales reached the World Cup semi-final and won a Grand Slam (including beating England away) and were rightly hailed as the best of the northern hemisphere, still sees them ranked below England and currently out of the top four RWC15 seedings? What use is such a system when it so patently fails to reflect current world standings? Tim Biggs, Australia
Hi Tom, I'm guessing you're a Wales supporter! Unfortunately for Wales they lost to Australia at home in the autumn and only got one round further than England in the World Cup - they just haven't gained enough points to overhaul England. At the time of writing England have 83.62 points to Wales's 83.32, so there's not that much difference and I guess once Wales have gone to Australia and won the series they may even move up to second or third.
What do you make of the talk about Dan Carter and Richie McCaw joining Treviso? Over the years the Italian teams have hired average players from the southern hemisphere to eventually play for the national team. Obviously Carter and McCaw are not going to change allegiances, but do you see this as a way to help develop Italian players or are they getting in the way of young Italians who could learn from playing matches? Also should all clubs use the money they intend to pay big stars to develop academies and facilities so more home grown talent comes through? Jon, UK
Hi Jon, Carter and McCaw going to Italy sounds good and if it happens then it will benefit Treviso and Italian rugby as a whole. Whilst these two players are playing to such high standards I don't think it would be to the detriment of developing young Italian players. Of course I hope Treviso will make sure that there will be a few rugby clinics with McCaw and Carter in attendance giving advice and ideas.
Why not also follow Jerry on Twitter?