Saracens: Show us the way to go home
By Chris Osborne
BBC Sport
Last updated on .From the section Rugby Union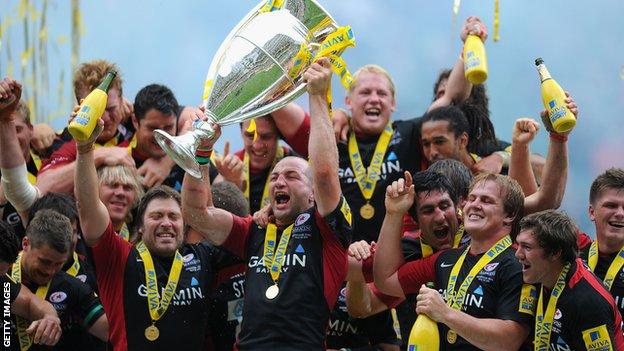 After 136 years of sowing their wild oats, Saracens have decided it is time to settle down.
The nomadic north Londoners started out in Southgate, train in St Albans, play in Watford, occasionally walk out at Wembley, have dabbled in Abu Dhabi and will even make the long haul to Hong Kong in the summer.
Finally, later this year, they will cease to wander in the wilderness when they take root in a new stadium at Copthall in Barnet.
It will be a significant moment for chief executive Edward Griffiths, the man who has encompassed the mindset of Saracens on their way to last season's Premiership title.
"When we arrive at Copthall our name will be on top of the door," said the South African.
"When we arrive at Vicarage Road, Watford's name is on top of the door. That's the reality of it."
After spending a large chunk of their history at Barnet's Bramley Road, followed by a brief spell at Enfield FC, Saracens have spent the past 15 years hosting the majority of their fixtures at the home of Championship football side Watford.
But it has not been the smoothest of marriages.
"It's tough at Vicarage Road," admitted Alex Goode, a Saracen of seven years. "It's not really a rugby town and it's very much a football stadium.
"And I think it's tough for the fans to get behind us there."
Paul Gustard, the former England flanker and current Saracens coach, added: "Spiritually we come from Southgate so it's great news that we're moving back into that area.
"It's nice for the chairman Nigel Wray and the rest of the investors that they can finally put their stamp down in north London and say 'we're here to stay'."
The move to Barnet is one of a series of markers in the evolution of Saracens.
A transition which started with the appointment of South African Brendan Venter - and an influx of playing talent from his home nation - as director of rugby in 2009 and his eventual handing over of power to Mark McCall culminated in that maiden Premiership crown.
"What has happened the last few years at Saracens can be summed up simply," said Griffiths. "Lots of good people had come through the club and the club had achieved some positive results.
"But I think the club was based around money. Most people worried about how much money they were earning.
"We've replaced money with people and it's a group of friends first and foremost."
The club has attempted to raise its profile along the way with "big days out" at Wembley. The latest instalment occurs on Sunday when over 75,000 spectators will watch the top-of-the-table clash with Harlequins.
Bonding trips to Oktoberfest in Germany, a failed attempt to play in Cape Town this year, an excursion to Abu Dhabi in March and an upcoming foray into Hong Kong exhibit Saracens' desire to "do things differently". Critics regard it arrogant and unnecessary.
"Why be the same as everyone else?" Gustard argued. "We try to do things a bit differently.
"The way we play is a bit different. The way we run the club is a bit different."
Griffiths added: "Our excursions to Wembley have transformed how the club is perceived from the outside and created a confidence within.
"We've got a great record there and I think the players love playing there."
With a Premiership title in the cabinet, Copthall is the last but one piece in the puzzle for Saracens.
A place at the top table of European rugby has eluded Sarries until now. Their mantra is to focus on people and the trophies will follow.
But a Heineken Cup crown is expected at some point, if only to complete the club's rise.
"It's huge," acknowledged Gustard. "We want to win the Premiership again - but we let ourselves down badly last year in Europe. This year we've rectified a few things that went awry.
"It's something we want to put right. We're the only English team left and we want to do ourselves proud."
And for Griffiths, placing the Heineken Cup in Copthall's club house would put some sparkle into Saracens' new home.
"It is a badge of honour for an elite group of clubs in Europe," he said.
"You look at Toulouse, Leicester, Leinster - a group of four or five clubs who are the elite of Europe. Why are they elite? Because they have won the Heineken Cup multiple times.
"We want to win the Heineken Cup multiple times. We want to be in that elite. At Copthall we have the opportunity to do that."