Wales wing Alex Cuthbert is 'frustrated' by Cardiff Blues deal
Last updated on .From the section Rugby Union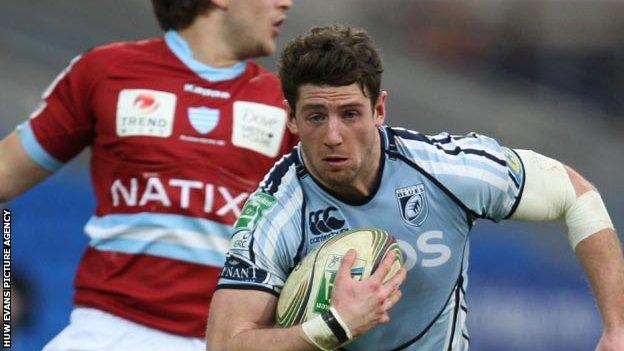 Wales wing Alex Cuthbert has revealed he has negotiated with French clubs while he waits for the right contract deal from Cardiff Blues.
And he says he is frustrated by waiting for the Blues' offer.
"It's been a while sorting this contract and obviously I have had to look elsewhere," said the 21-year-old.
"It has been a bit tiresome over the last few months. I tried to get it out of my head over the Six Nations and I was hoping it would be sorted just after the Six Nations.
"It's been carried [on] this long which is a bit frustrating. I am trying to be patient as much as I can but it is coming to the end of the season and I'm not with a club at the moment.
"Blues would be my first choice obviously and I'm just looking forward to the future, and hopefully I will know where I'm playing next season.
"My agent has been in negotiations with a few French teams at the moment. Just other options because it is getting close to the end of the season.
"The Blues [have had] the whole season to offer me a contract so other negotiations elsewhere have been helping that.
"Hopefully [this will be sorted] in the next few weeks. Hopefully the Blues can up with this competitive offer and we can sort this out.
"I'm hoping they can offer me a competitive offer where I'm happy.
"It didn't seem the right offer now. I wasn't happy with it. I do want to play at the Blues and hopefully we can get this sorted."
The Blues said on Tuesday they are confident Cuthbert will sign a new contract with the region in the next few weeks.
"We want to keep him with Cardiff Blues. He wants to stay with Cardiff Blues," confirmed Blues forwards coach Justin Burnell.
"We did offer Alex a contract in September and then Alex was then very fortunate to go into the autumn internationals and different people were advising him and telling to hold off.
"We sat down with Alex last week and we are in the process of putting a package together to keep him with Cardiff Blues. The most important thing is that Alex wants to stay at Cardiff Blues.
"I'd like to say [he will be at the Blues next year]. It certainly won't be through the lack of trying.
"We offered Alex Cuthbert a contract back in September/October. But as you can imagine it has snowballed [for him with Wales]."
The confidence on keeping Cuthbert comes on the back of the region dismissing fears that his fellow Wales players Leigh Halfpenny and Jamie Roberts will leave the Cardiff Blues this summer.
has already confirmed he will join the Welsh exodus to France as the British and Irish Lions prop will join Top 14 side Toulon next season.
Back Halfpenny and Lions centre Roberts are contracted until the summer of 2013 and Baber hopes they stay long-term.
"They will be Blues players next season," insisted backs coach Gareth Baber.