Richie Baxter prepares for 400th Exeter Chiefs match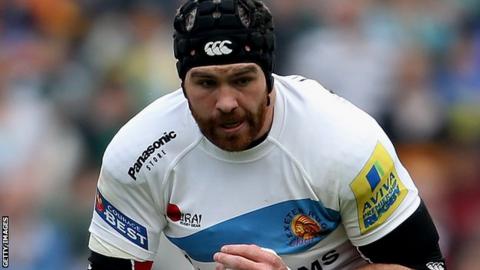 Exeter Chiefs' longest-serving player Richie Baxter is set to play his 400th game for the club.
The 33-year-old will make the milestone if he is selected for Saturday's Premiership clash with London Irish, almost 15 years since his first start.
The number eight made his debut against Fylde in the old Allied Dunbar Premiership Two in October, 1997.
In that time he has seen the Chiefs promoted to the Premiership and has set the club's all-time appearance record.
"The club has taken me on an incredible journey," former captain Baxter told BBC South West.
"After my first couple of years playing I could see the club were always progressing and wanting to progress and I'm just pleased to be a part of that.
"It's been a part of my life for 15 years, not just my life but my family's life as well."
Baxter is now coached by his older brother Rob, but the pair also spent years looking after one another in the Chiefs pack.
During his career he has seen the club become professional, and says rugby's move to pay players in the late 1990's was a sea-change in the sport in England.
"Now you see players bigger, quicker, stronger all the time.
"As soon as the game went professional, we went professional and I could see straight away the better physical condition of the players and how hard you were getting hit in tackles."
Baxter says his toughest time at the club was in the seasons leading up to Exeter's promotion to the Premiership in 2010.
The club regularly finished second behind the team that had been relegated from the Premiership in the previous year, as they had the benefit of parachute payments from television revenue that Exeter could never get.
But with the Rugby Football Union's restructuring of English rugby below the top-flight, and the introduction of a play-off system in the newly re-named Championship, Exeter seized their chance and got promoted at the first attempt as they beat Bristol in a two-legged final.
"It was frustrating when we couldn't quite take that next step into the Premiership. But it was so hard to take that next step and I think that needs to be appreciated.
"It wasn't really quite a level playing field, the team coming down did have a lot more going for it.
"But it was probably the highlight of my career to take that step and win those finals that took us into the Premiership - it was a massive thing for the club.
"But to be honest I'd like to think we probably still could have done it without the play-off system."
So what for the future? Baxter is still healthy and says he would like to remain playing for as long as he is fit and his brother Rob keeps picking him.
"Rob's always bossed me around so that just continues, he's my older brother so nothing changes really."